Update Sep 19 2014 – We have also added grouping by date. Read more in this post.
Here's a feature a lot of you requested lately – grouping of articles by feed when browsing folders.
Here's a quick screenshot, because we know very well that a picture is worth a thousand words: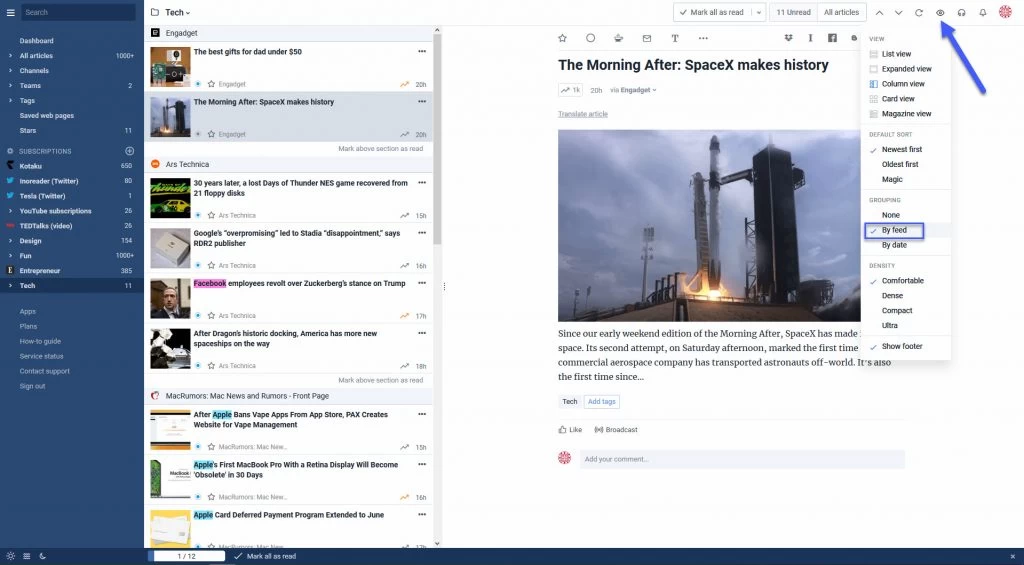 Just go to the Eye menu and enable Grouping by feed option. Of course this option only works in Unread only mode, because otherwise each feed can contain practically indefinite amount of articles and grouping will be useless.
Grouping works in all view styles with some cosmetic differences. You can use it on folders or All articles section.
We really hope that this feature will make reading entire folders more comfortable! Our team is already enjoying it very much.
Some other changes in this update that deserve mentioning:
The tree pane now have three more width options – Narrowest, Wider and Widest: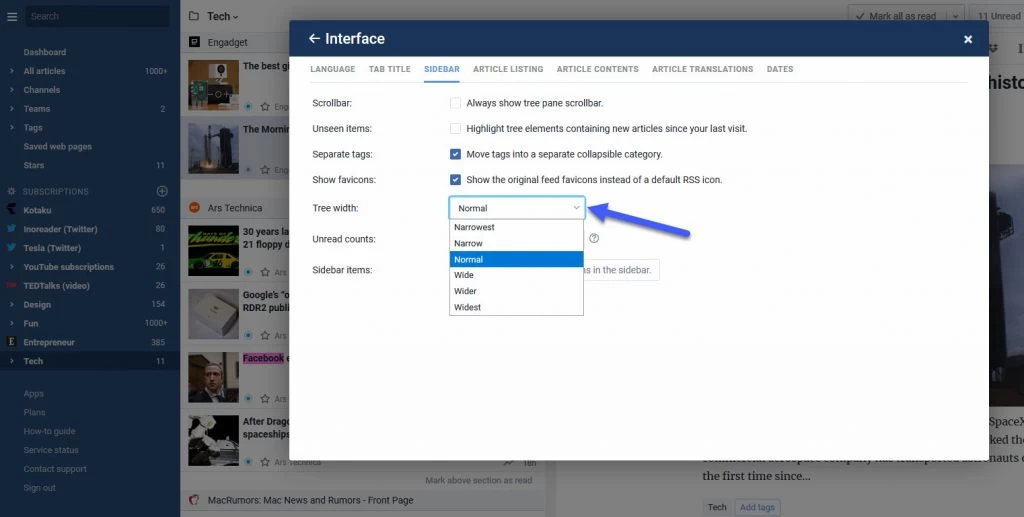 The narrowest setting is for really small displays. The two wider options are best suited for bigger monitors and resolutions like 2560 x 1440 (most 27″ panels).
Articles in Favorites section are now always sorted by their starred date. This means that recently starred articles will always be on top (or at the bottom depending on your desired order). Previously articles were sorted by their received date (very close to the published date), which wasn't very intuitive, because a recently starred article might get somewhere in the middle of the list. This change applies to all apps, RSS and HTML exports.
The Open in new tab button in card view is moved from the end of the title to the bottom of the card, where it will always be visible:
Middle-clicking on article headlines in List view, Column view and Card view will now open the article website in a new background tab and mark the article as read
Rules are now always sorted alphabetically.
A new mouse hover effect for unread articles was added in List view and Column view.
We hope you will enjoy our improvements.
As always if you spot a bug or an issue, you can use our feedback form (accessible in the gear menu) to reach us.
—
The Innologica team