Back to Blog
Inoreader How-to: Save time with Rules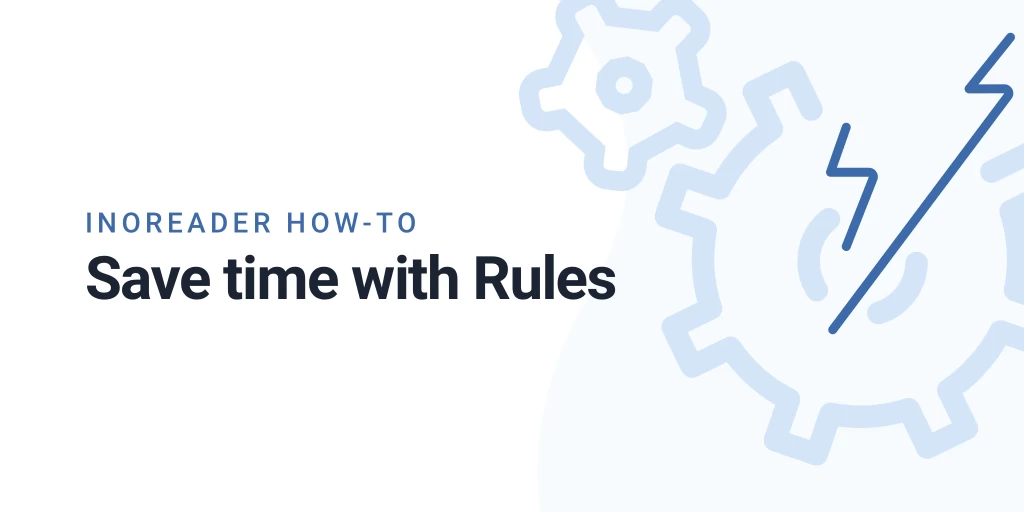 Our new how-to post will bring all the power of rules – an automatic way to organize and manage articles in your Inoreader. Read on to see more about rules and how to use them, and don't forget to check all our other
how-tos
.
What are rules?
Rules are a handy way to automate your content consumption. They are applied to incoming articles and can filter content based on a number of conditions like keywords in the content, author names, URL strings or article attachments. You can use rules to automatically tag, star or mark as read, send articles to a number of services, broadcast, send to email or use desktop alerts.
Why use rules?
Like many other power-user features, rules may look a bit complicated to use at first, but the benefits can be huge. Rules do the basic filtering and organizing work for you – if you'd like, you can think of them as the rules you can use in an email client. They save time and boost your productivity by letting you focus on what's really important – reading.
You can make rules as simple or as complicated as you like, depending on your needs.
And the final answer to the question is simply "why not" – any Inoreader user can create their own rule. Just give it a go and see if it's helpful to you (we bet it will be!)
How to create rules?
You can start creating a rule in almost any place on Inoreader. If you right-click a folder or subscription, when you click the article menu, you'll always find the Create a rule option in the context menu:
You can also create rules from the dedicated section in the Preferences menu. However, this is more convenient for managing rules and the easy right-click access is handy for creating new ones.
Creating a new rule is done in 3 easy steps:
First, you have to choose the scope of the rule – When – it can go through all your articles, a specific folder or subscription.
Then you have to define the conditions that trigger the rule – If. This can be a number of different options and you can combine more than one of them. For the techies, rules support regular expressions. If you add more than one condition, you can decide if the rule should match all conditions or any one of them. When doing rules for a specific subscription, you can also use unconditional matching.
Finally, you have to define the action that will be performed – Then. This can be an action performed to manage and organize your articles, like marking as read, tagging or starring, a sharing action like broadcasting or sending via email or some action using integrated services like Evernote, OneNote, Pocket, Instapaper or Readability.
Just mix and match depending on what you need and once done, the rule will start functioning for newcoming articles.
Monitoring rules
Since we love stats, we've created a couple of ways you can monitor your rules. You can see the amount of rules in your account from the Billing and usage section in your Preferences menu. The Rules, Filters and Highlighters section of the menu will show your rules, together with information about the amount of articles the rule has matched and the options for editing you'd expect here. You also have quick access to the rule log, where you can see the last 100 matched articles for the specific rule. You can also add a log for your recent rule matches to your
dashboard
.
Do you already have some ideas how to use rules? Here's a couple of simple examples:
automatically broadcast your own blog posts
tag all Android-related articles in Engadget and then manage the tag in any way you'd like
mark as read the pieces on Madagascar from your Travel folder, since you went there last year and already know all about it
Mark as read all the news about Justin Bieber and Kim Kardashian
Tag all articles containing videos with "Watch later" tag.
The limit to Rules is just your ingenuity and imagination.
Rules are available for
Pro users
, but have some limitations. If you like the feature, you can
contact us
and "request more" rules and continue to automate your day to day activities.
If you still haven't tried the many benefits of Pro accounts, you can 
get a 14 days Free trial
.