Back to Blog
Inoreader How-to: Stay in the know with Search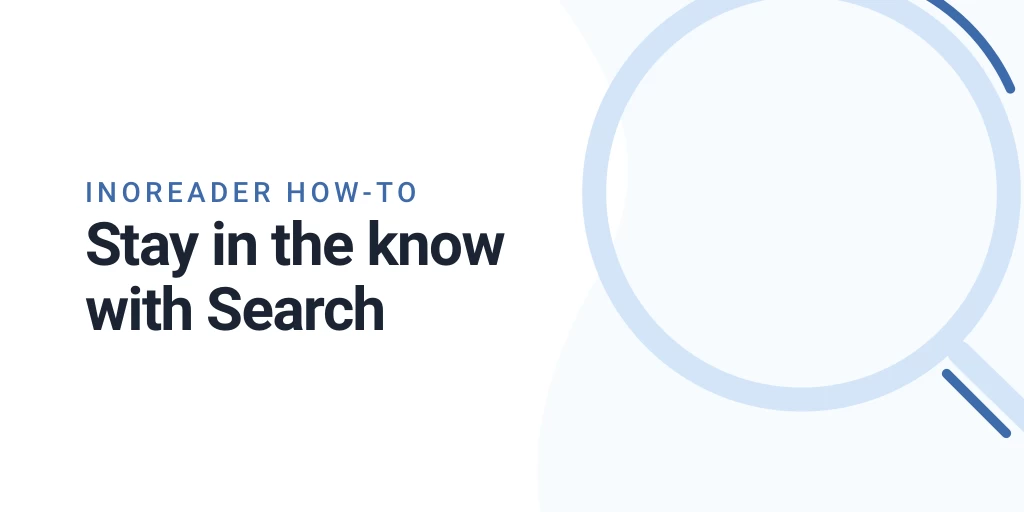 Disclaimer: Please note that this article was published before March 30, 2023, when Twitter feeds stopped being updated and available to follow on Inoreader due to changes in Twitter API policies.
A content reader can be really useful when you want your favorite content to come straight to you, but there might be a lot of interesting information you don't even know exists. This is why we have invested a lot of time developing Inoreader's search capabilities, keeping in mind the reasons our readers might have to search.
Searching on Inoreader
Accessing search has never been easier – just click on the search bar in the top left-hand corner of Inoreader and start typing. You will see a list of suggested feeds that match your query and an option to search inside Inoreader.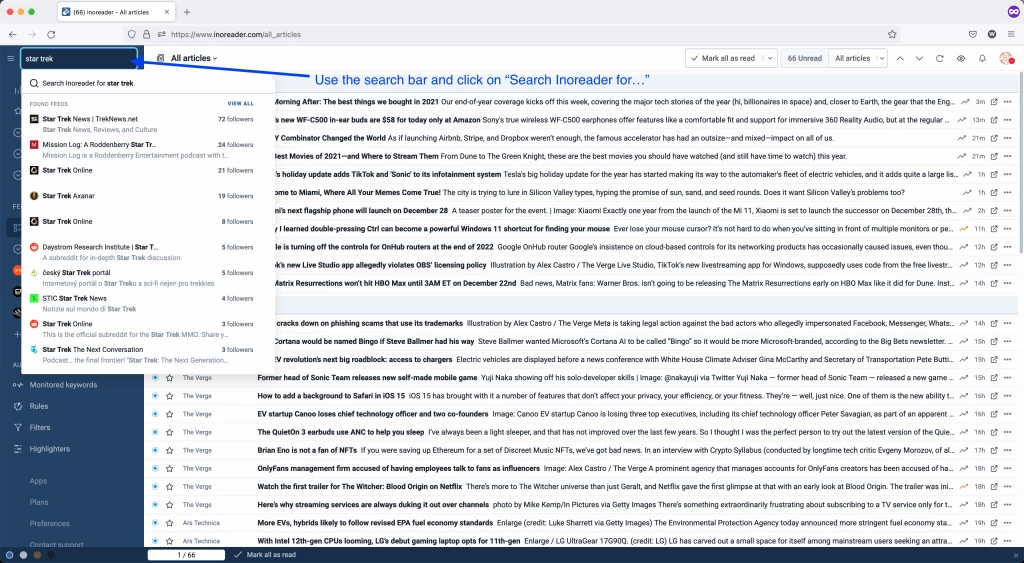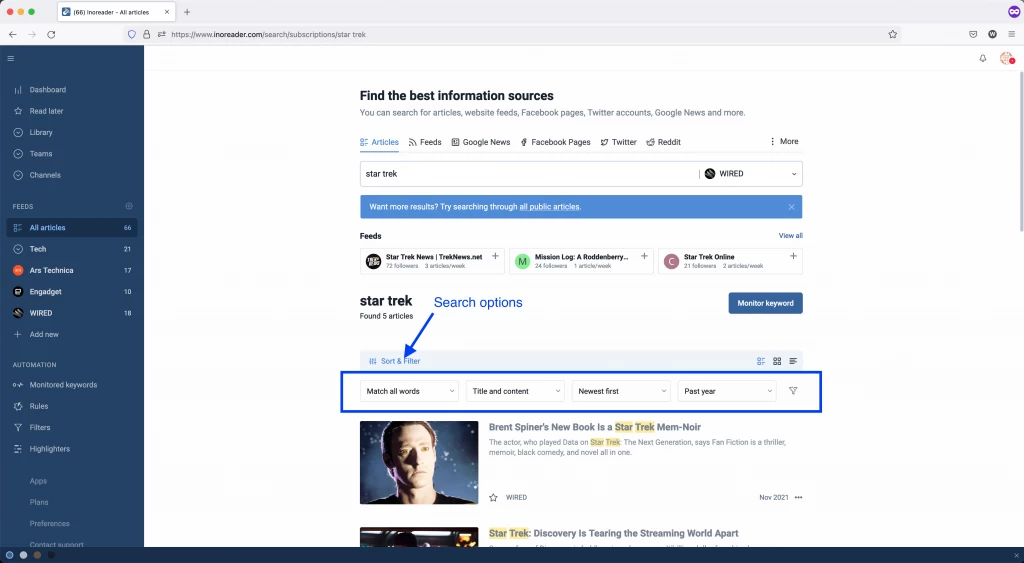 You have also full access to all search options, including match type, content and article age filtering and results sorting. A bit more on the technical side of search in Inoreader can be found
here
.
Social Search
You will quickly see that you also have the option to search for Twitter and Facebook feeds. For both of those services to work, you will have to connect your social accounts – Inoreader will helpfully remind you to do that when you first access the specific search results tab: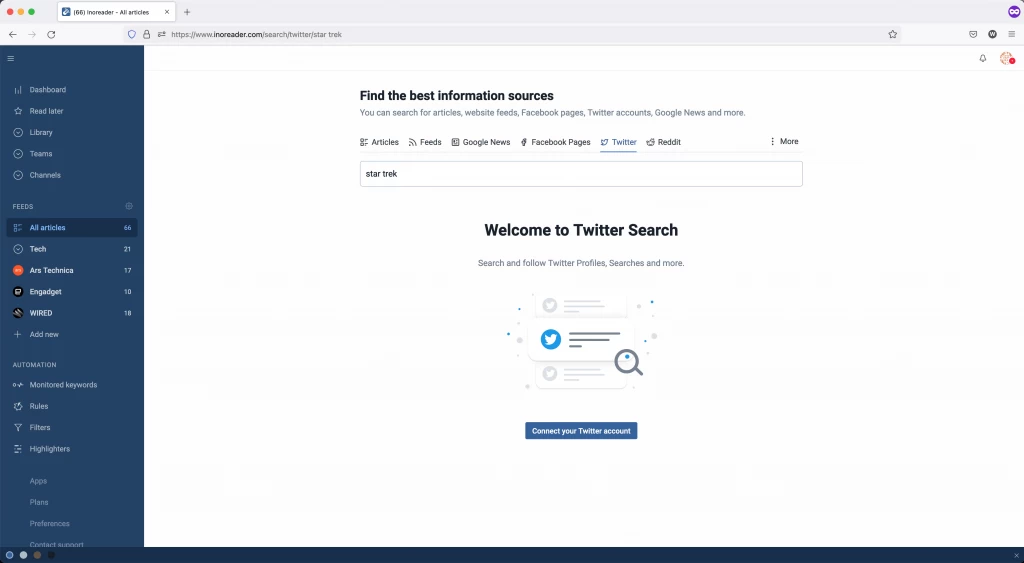 You can also take charge and go to Preferences – Save, Share & Login to connect all your social accounts.
Once you connect your accounts, you'll be able to subscribe to a bunch of useful social feeds like:
Global search
Search shines the most when it helps you find useful content you were not aware of before – this is where the Global search comes in handy. It allows you to search in all public feeds that Inoreader indexes.
So, let's say you're a Star Wars fan and you're subscribed to a bunch of movie news sites, but you want more? You can search in all public articles, in order to find out more than your subscriptions are saying about the upcoming movie: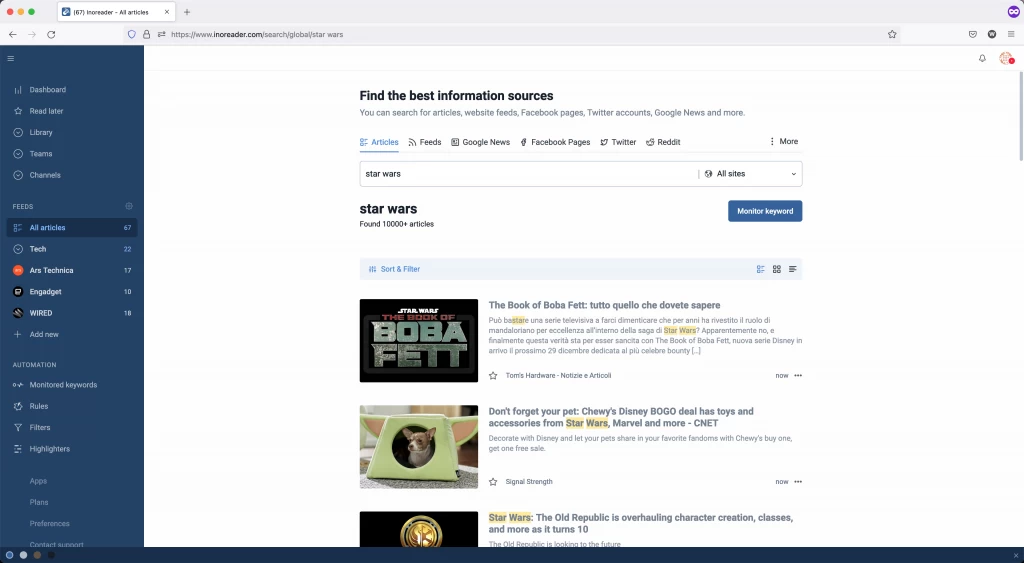 Global Search can be used only by Professional users.
Monitored keywords
Monitored keywords is a way to stay on top of the content stream and see everything on a given topic. Your keywords are updated constantly with the newest results that match your query. You can create a monitored keyword from any article search on Inoreader – just click the button Monitor keyword on the search page and get the results straight in your profile: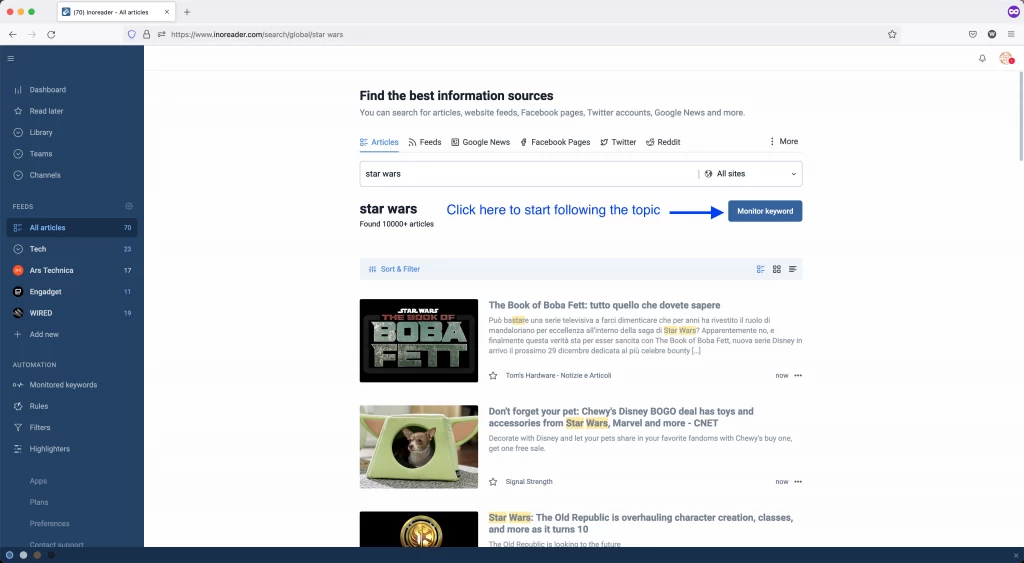 Monitored keywords can be really helpful in many aspects, especially when you tie it together with Global Search – say, when you want to monitor what people are saying about your business online or when you just need to know all the news about Terry Pratchett and his books (those are both real-world examples from my personal account).
You can test out Active Search with all account types in Inoreader, but if you want to use more than 1 active search, you will have to
upgrade your account
.
If you still haven't tried the many benefits of Pro accounts, you can
get a 14 days Free trial
.