When you're casually browsing the internet, there is nothing better than stumbling across a new source of excellent content – but nowadays, you're rushing so much that you might not put in the extra effort and fire up your Inoreader to add a feed to your subscriptions. RSS Reader Extension (by Inoreader), our dedicated browser extension, will save you time and make sure you have a quick way to add anything you want to your Inoreader.
Setting up your browser extension
The Inoreader browser extension is available for
Google Chrome
,
Mozilla Firefox,
and
Microsoft Edge
. It can help a lot with your content when you're not in Inoreader. You can find links to all versions of our browser extension in the Apps section at the bottom of the tree pane, or you can open the extension directory of your browser and search for Inoreader.
By default, it will display the count of unread articles in your reader, and on click, it will open a full pop-up where you can see a preview of all your folders and subscriptions, subscribe to the source of a currently opened tab, or
save a web page
. Here's how this looks: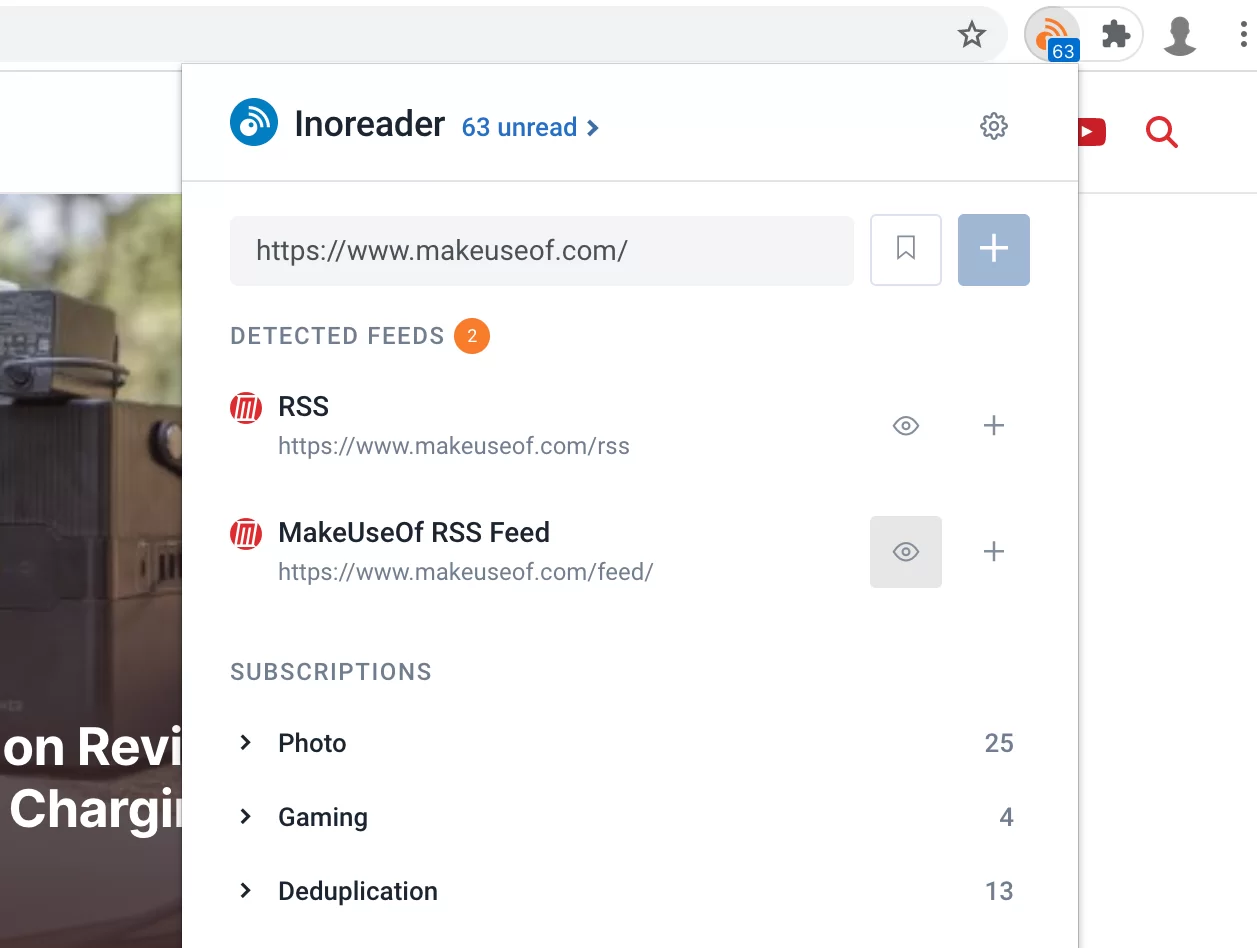 You can adjust how your Inoreader browser extension behaves if you decide you don't need some elements. Just open the extension options, where you can:
Choose whether or not to have an unread counter in the extension icon.
Choose the action that pressing the icon initiates. This can either open the full pop-up with feed information, search and subscribe, a smaller version with just search, subscribe, and save options, or open Inoreader in a new tab.
Change the theme.
Once you have your browser extension all set, you can add feeds or save pages on the go. Neat, huh?
If you still haven't installed Inoreader Companion, you can do it here:
Inoreader Bookmarklets
But what to do if you don't want to add an extension or use a different browser than the four supported ones? Don't fret, we have a solution for you – just use our bookmarklets. You'll find those below the extensions on the
Mobile apps page
– just drag them to your bookmarks bar, and you can use them to subscribe to feeds and to save web pages:
If you want to know more about optimizing your work with Inoreader, check out the rest of our
How-to posts
.