Ever since we launched Article Annotations, we started receiving feedback about exporting those annotations outside of Inoreader. Today, we are proud to launch our new integration with Readwise.
Readwise is a software tool that helps you get more out of reading by centralizing all your notes & highlights into a single place from sources such as Inoreader, Kindle, and Apple Books. The company's mission is to improve the practice of reading through software the same way word processors revolutionized writing.

Once your reading data are aggregated, Readwise makes it easy to consistently review your highlights as well as export them to your favorite note-taking apps such as Evernote, Notion, and Roam Research.

To learn more about Readwise, please visit readwise.io or follow them on Twitter.

from readwise
By connecting your Readwise account, whenever you create a new annotation, Inoreader will synchronize it automatically, and you will be able to revisit it later on readwise.io. Any comments you add to this annotation will be saved too.
To start, head over to Inoreader's Preferences, and click "Share, Save & Login". Scroll down and follow the instructions to obtain a Readwise access token. Paste the token and click Connect:

There's nothing more to it really. After that, just annotate articles as you always did before, and your annotations will automatically sync. You will also get a link to the book in Readwise, where the annotation is saved: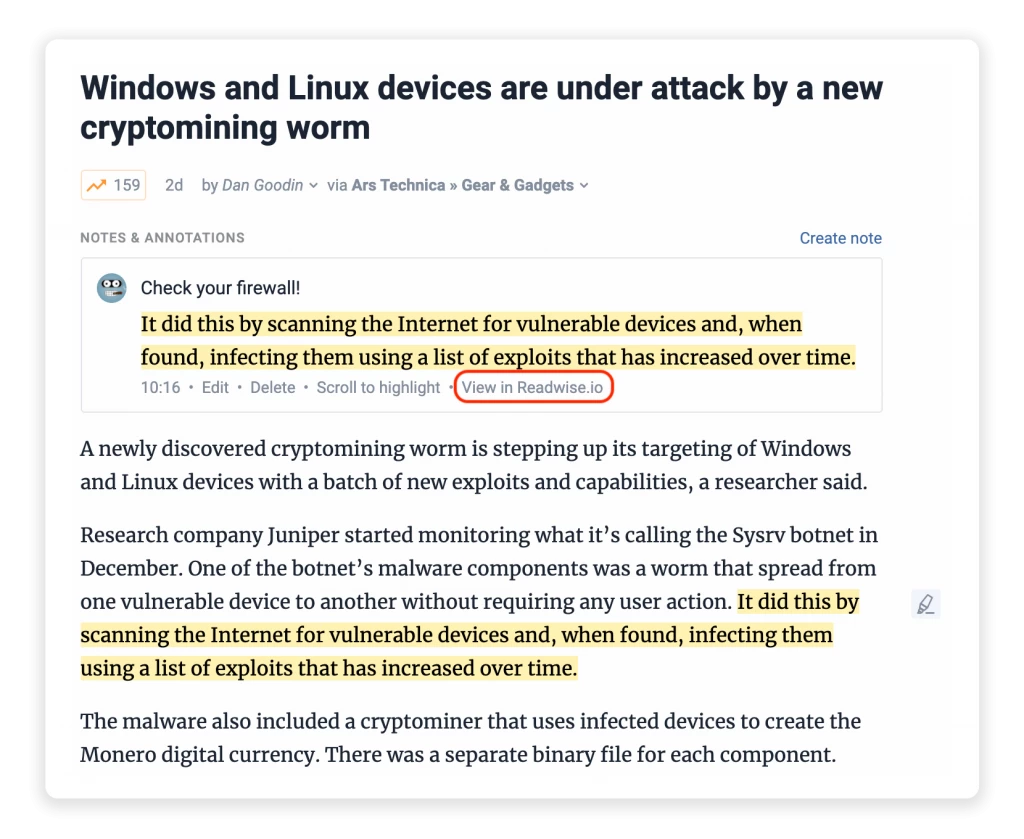 The integration will also synchronize any annotations made from our Android and iOS apps, so you don't need to change the way you highlight articles on the go.
Join our Discord server and let us know how this integration helps you be more productive