Is your business dependent on regulation changes, brand monitoring, competition tracking, or trend discovery? With the expansion of the communication channels, discovering great content gets trickier and more complicated. Following a massive pile of sources or feeds eats time: yours and your team's time.
Inoreader has the solution! Streamline your content discovery, consumption, and distribution, and get a better understanding of actual events and recent information.
What is Inoreader for teams?
It is a group subscription for Inoreader. All team members enjoy the benefits of the Inoreader Pro plan but also gain access to unique collaboration features. They will be able to build a stream of valuable articles and posts. The information is shared quickly and securely, and everyone can contribute with his comments and notes on the articles.
What's included in the Team plan?
Team channels – streams of relevant information
The channel is where you and your team will broadcast the content. It is a collaborative space, and every member of the team can contribute with articles. The Team can have as many channels as needed, meaning you will be able to monitor different topics, trends, sources, etc., in separate streams.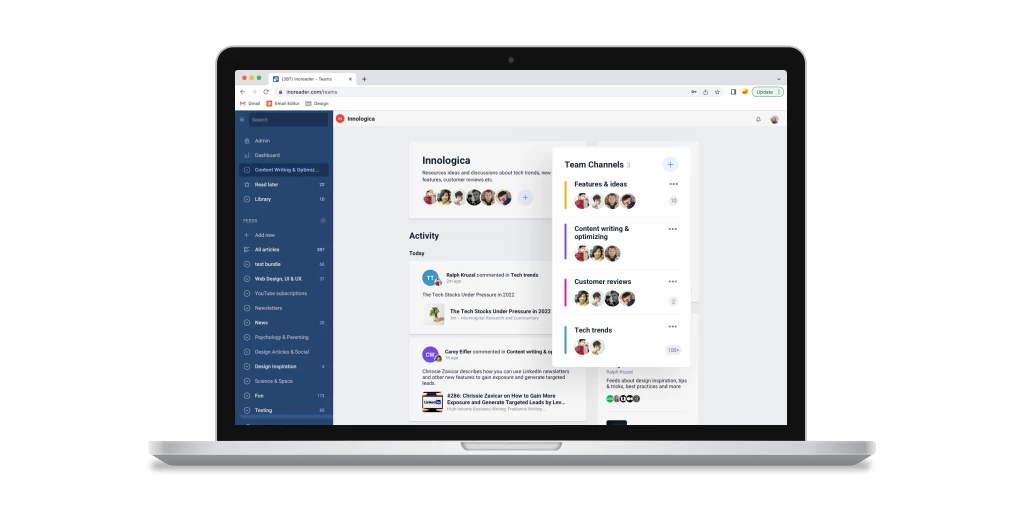 Team members can contribute to channels, sending articles together with comments and notes. The collaboration features make the channels valuable: your team will build a stream with relevant and filtered information.
Admins can delegate access to channels to different team members depending on their needs.
Integrate your Slack workspace or Microsoft Teams account, and Inoreader will automatically forward channel articles there.
Team Bundles – common feeds shared among the team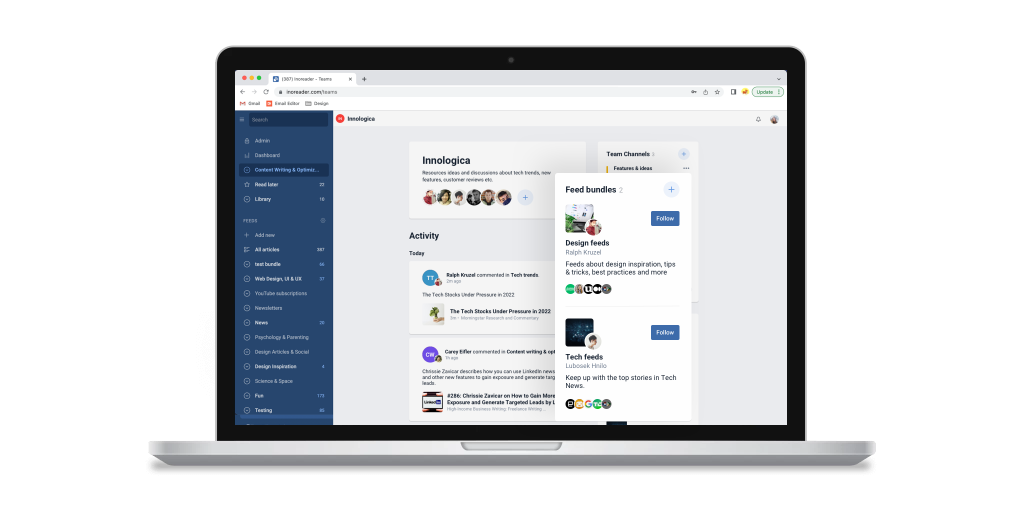 Do you want your team members to follow a specific list of feeds? Or maybe you want to onboard a new team member quickly and efficiently? You can do it with Team Bundles.
A Team Bundle represents a folder of handpicked feeds organized by you or your teammate. They are visible in the team dashboard, and everyone can follow them with a single click. You can have as many Team Bundles in the team as you need to track all essential information.
Mail Digests – an efficient tool for content distribution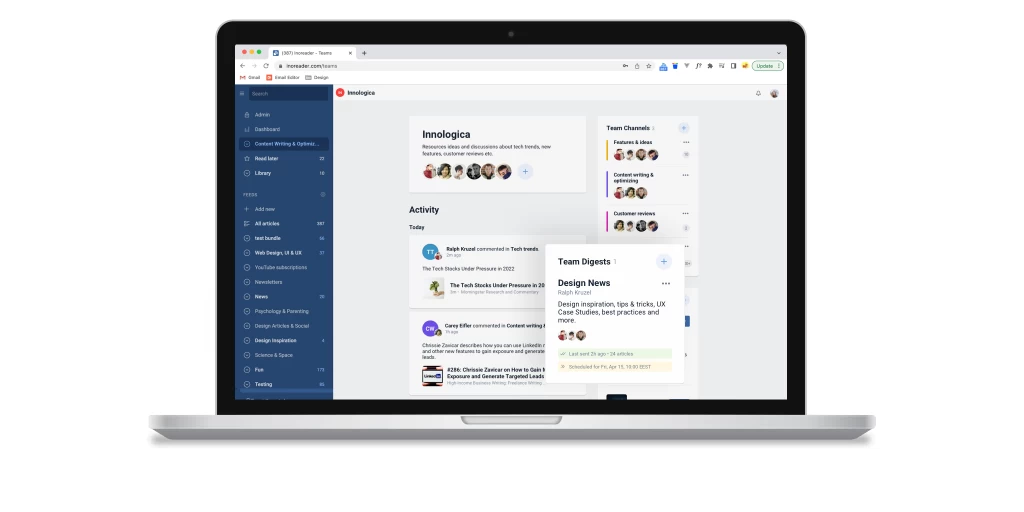 You've discovered the content. You've extracted the essentials. Why not share it? The Digests enable you to schedule an automatic mailing to a list of recipients. You're free to decide who receives it.
Just think about it for a second. The digests solve one of the biggest challenges: organizing the reporting for a customer, your team, or another department. Digests will enable you to efficiently share information about competitors, regulations, media monitoring, etc.
Inoreader Pro
All members will receive an Inoreader Pro plan for as long as they belong to the team. If you need higher limits for a specific feature, you can contact us to discuss your use case and find a solution. We can upgrade one or more team members to higher limits depending on your request.
Are you ready to try the Inoreader Team Plans? Start your trial, or contact us to discuss how Inoreader may solve the challenges you face. It is time to increase your efficiency in discovering content, tracking competitors or regulations, following and exploring trends, and sharing the knowledge with your team or clients.