It is summer and it's really hot outside. But here comes Inoreader with some really cool news: a major update of our iOS and Android mobile apps. We spent much time researching your feedback – with the single goal of giving you back control of your own newsfeed. To make Inoreader better and to help you consume better, relevant, and valuable content.
Even on the go.
In short, this is what we did:
Completely new article search module
Improved offline reading mode (with automatic full content fetching)
Highlighters for easier and faster content discovery
Improved widgets on iOS
Accessibility improvements
Article Search

Tap on the search icon in the upper right corner and enter your query: you can easily choose between searching into your feeds (or a specific location) and searching through all public feeds.
You can not only specify the exact scope (feed, folder, etc.) for the search, but you can use advanced syntax, sorting, and filtering too. And this is not all: now you can define the language of the search and the results.
And what's even better: from the search results page, you can immediately start Keyword monitoring with a single tap! Cool, yeah?
Offline Reading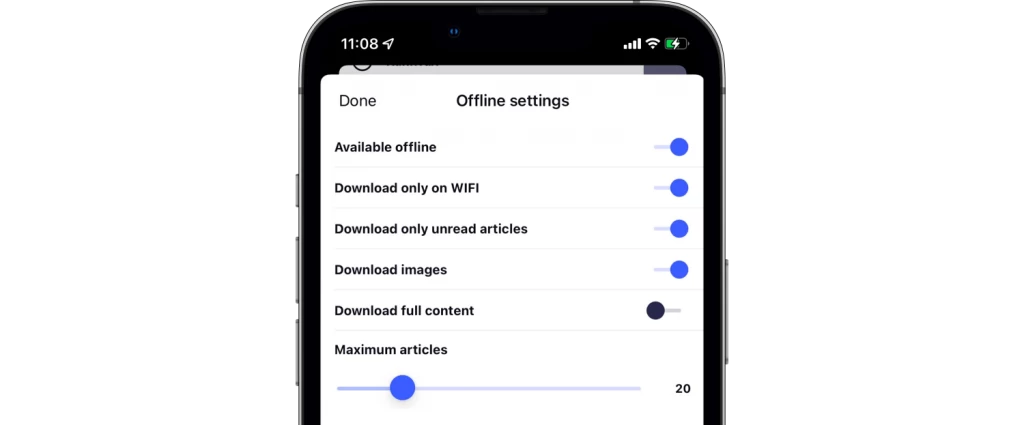 With our latest update, we improved the offline reading feature. Available for all Inoreader Pro users, this service allows you to consume content regardless of your Internet connection. Mark a folder as an Offline folder, and Inoreader will continuously download the latest articles to your phone.
But that's not all: we will serve you the full content of the articles (where available). That's right: you will have full content articles for offline reading!
Highlighters

The highlighters are one of the favorite features of our desktop users. It was about time to introduce them to the apps, and with the most recent update, you can start using them. Add highlighters for brands, names, or valuable phrases and speed up your content discovery! Read faster and easily reduce the noise.
Improved widgets on iOS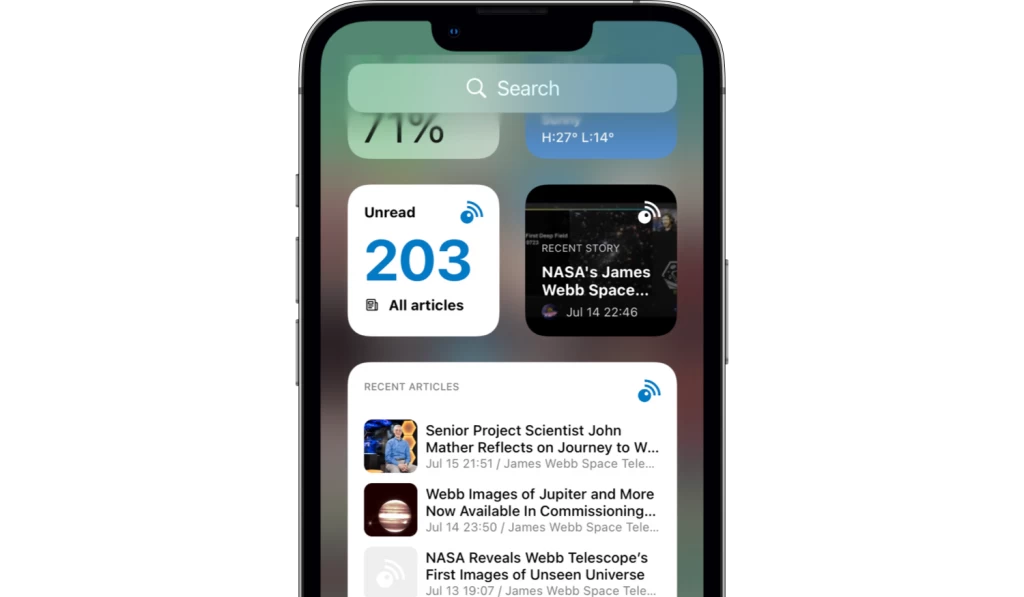 Build a habit of visiting Inoreader and consuming relevant content. Stop wasting time non-concisely browsing and swiping through the tons of irrelevant clickbait on social media platforms. Use your time wisely and visit Inoreader more often instead.
Here at help come our mobile app widgets. Long-press on your iOS home screen, tap + and choose the most convenient Inoreader widget for you: Unread counter, Recent Story, or Recent articles. Now you will always have something valuable right in front of you! Widgets will now update accordingly when you Interact with Inoreader and will not show you stalled content.
Accessibility Improvements
We have improved a lot the iOS app for users using Apple's VoiceOver assistant. Thanks to feedback from passionate users, we were able to pinpoint issues with our labeling of UI elements and more importantly, add some critical interactions to improve the flow of the app so users can't get stuck on a screen without an option to go back.
Bug fixes
Tons of smaller bugs have been squashed on both platforms in a series of stability-focused updates. Inoreader is so stable now you can keep your horses there!
If you still don't have our app on your phone, you can get it here:
Download Inoreader and start consuming valuable content wherever you are: on the beach, in the mountains, or just chilling.