Back to Blog
Making complex searches easy with our new query builder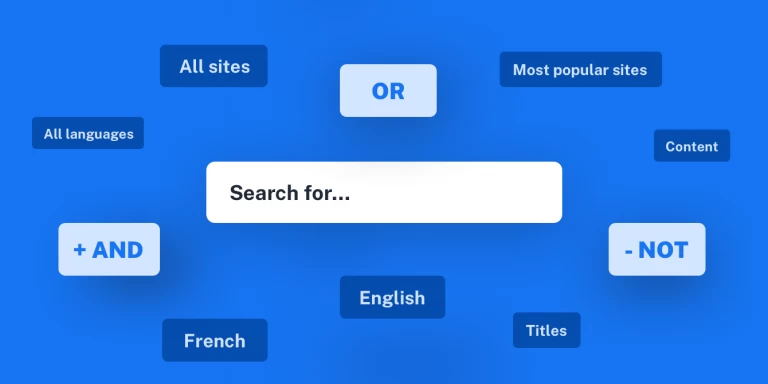 Next in our list of updates, Inoreader's new advanced search feature makes finding relevant content more accessible and keyword monitoring more efficient. Specifically designed to help you create complex search queries, our new builder can be useful to beginners unfamiliar with search operators and professionals wanting to avoid mistakes alike.
To try it out, go to the Article section of our Search bar and click the Open advanced search button. Then, begin by filtering and choosing whether to search through all public articles or articles in your feeds only. You can then refine your search further by picking a language to limit it to or leaving all languages on. Lastly, select whether you want our engine to search only in articles' titles, content, or both.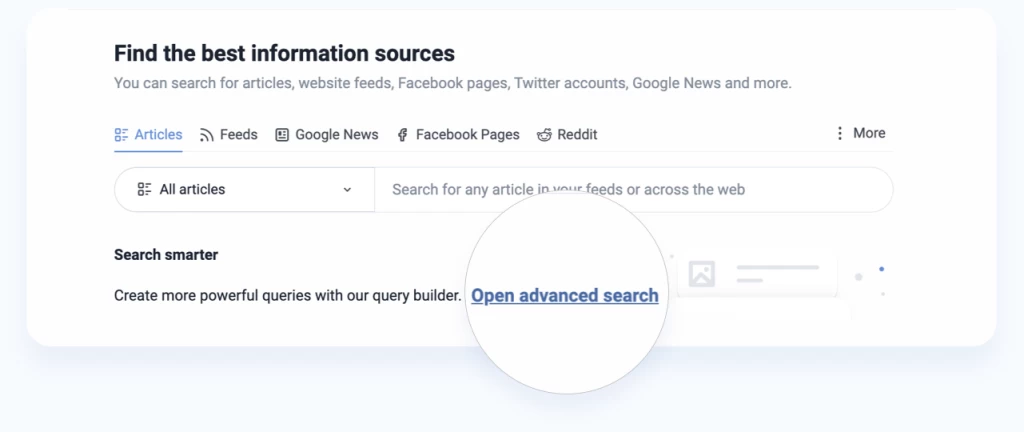 Once you've done this, you can start building your search query by typing the main term and adding other phrases to combine it with (AND) or exclude from your search (NOT). To include alternative terms, click the OR button and add them to any row.
In this example, let's imagine your goal is finding and tracking news related to transfers of football players to Liverpool F.C. You have limited the language to English, and both title and content search have been enabled to ensure you miss no important updates. Everton has been marked as an exclusion since both clubs are from the same city (Liverpool), which, in this case, also matches the name of the club of interest and could pollute your search combined with the other team's name.
After filling in all terms and limitations and clicking the Show results button, a query will be generated for you, along with some matching results:
From there, you can fine-tune your search by exploring different filters and sorting options before clicking the Follow feed button to create a monitored keyword. If the results are not what you expected, you can edit your query directly or click Advanced search again to edit the parameters inside the builder. If you're not sure what got messed up, you can always select the Clear all button and start over.
Now that you've got a keyword monitoring set up, you can sit back and enjoy new articles coming straight to you… Except sometimes, you may still feel like something is wrong. The good news is we also have a new solution for this case!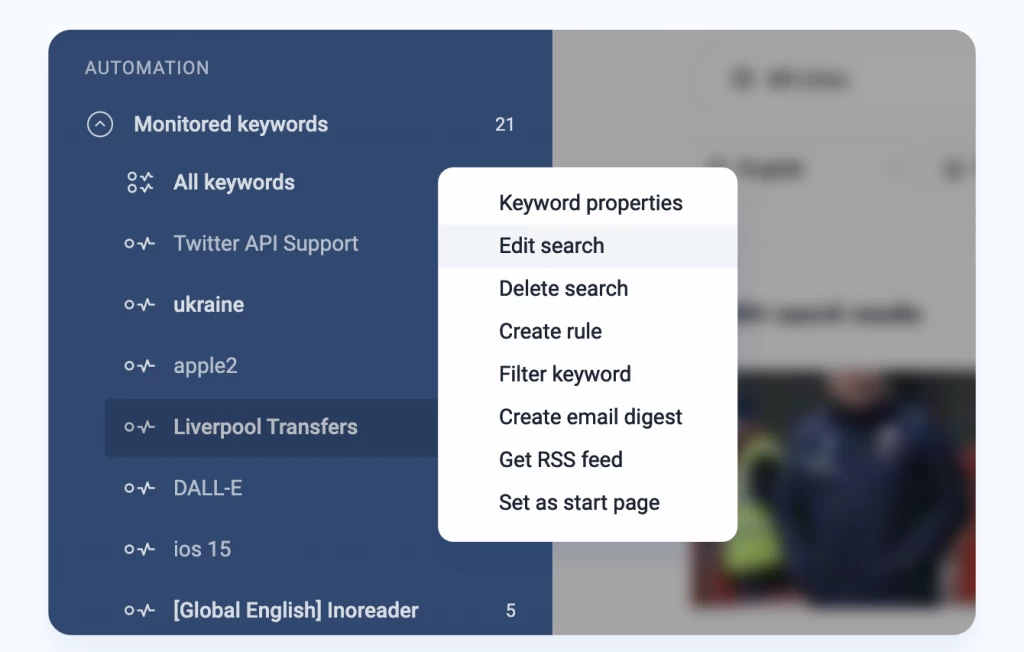 You can now edit your monitored keywords by right-clicking them in your sidebar and choosing Edit search from the options. Then, you can change their names, filters, terms, and limitations to finally update your results by clicking the Save search button. However, please note that changing the query resets the search, meaning no old articles matching the previous terms will be saved to your account.
No need to worry if you've made a mistake anymore – let Inoreader build your searches and do the work while you spend quality time online!