Crea tu propio feed de noticias
Con Inoreader, la información acude a ti al momento de estar disponible. Sigue tus sitios web y creadores favoritos, colecciona artículos y descubre contenido inspirador a lo largo de la web. Filtra el ruido y aprovecha al máximo tu tiempo en línea.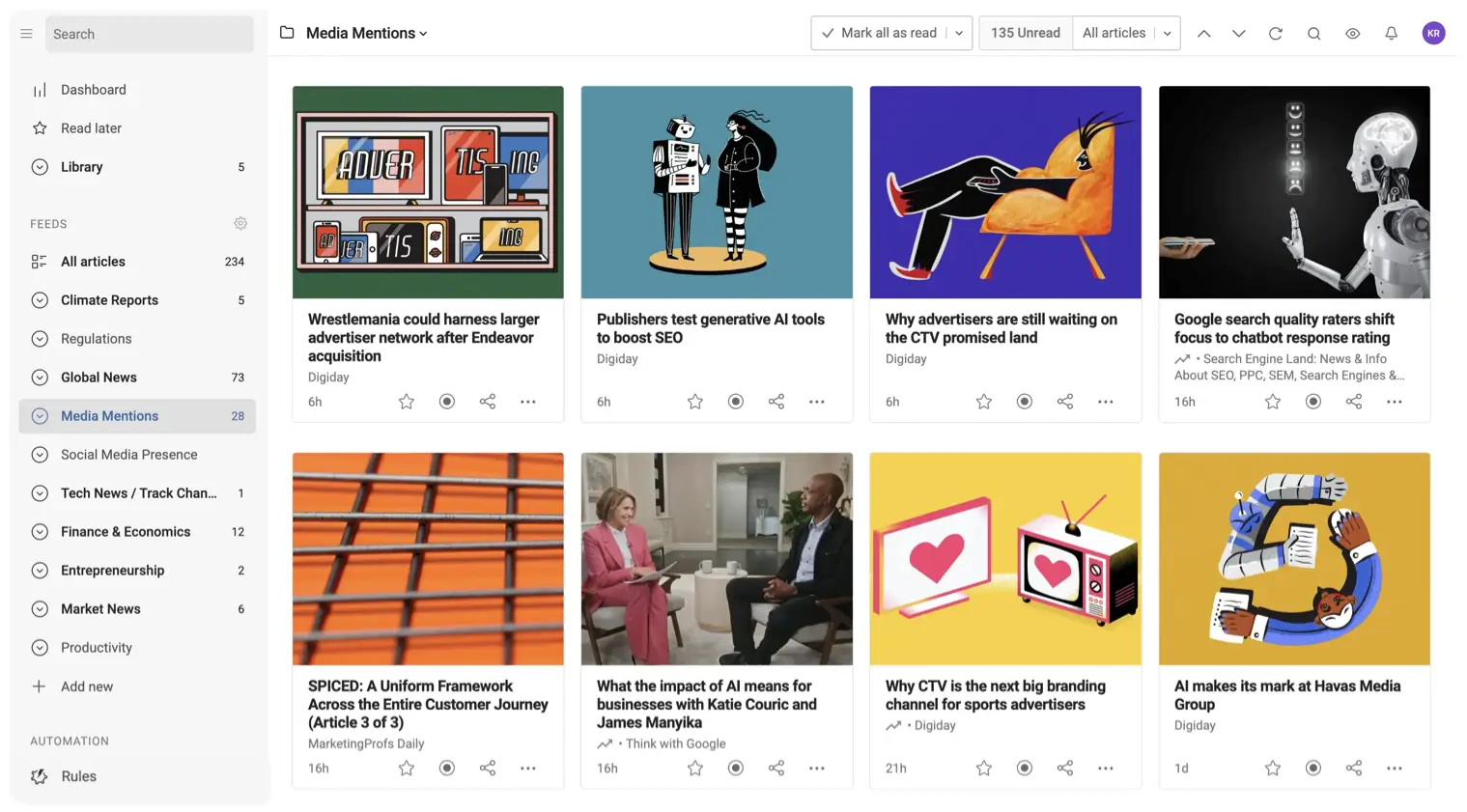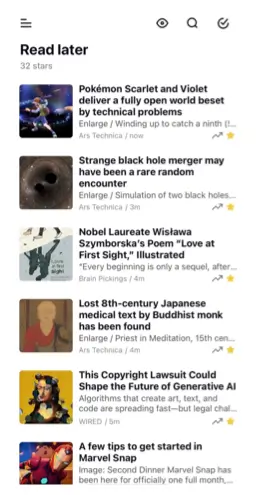 Sigue tus sitios web y creadores favoritos
Reúne el contenido que te importa y disfruta lo mejor de la web en un solo lugar.
Gana tiempo con potentes automatizaciones
Optimiza el descubrimiento de contenido y deja fuera lo que es irrelevante. Tú estableces las reglas, Inoreader hace el trabajo.
Algoritmos inteligentes y motores de recomendación
Obtén actualizaciones tan pronto como sean publicadas en línea. Adapta tu vista y disfruta un feed personalizado.
¿Funcionalidades? Tenemos algunas.
Sitios web y RSS
Sigue medios informativos, blogs, sitios web corporativos y boletines. Busca artículos y mantente a la vanguardia con RSS y feeds web.
Escucha social
Monitoriza páginas de Facebook, canales de Telegram, feeds de Mastodon y Reddit. Sincroniza tus suscripciones de Youtube y escucha podcasts.
Monitorización de palabra clave
Obtén actualizaciones de tendencias emergentes y sé el primero en aprender sobre los últimos eventos con búsquedas activas en más de 30 idiomas.
Automatización de feed
Disfruta de la mejor experiencia con feeds personalizados. Usa filtros y reglas, asigna etiquetas y notas, y recopila lo que es importante en carpetas.
Colaboración
Trae a tu equipo a bordo y mantente por delante de tus competidores. Monitoriza marcas, patentes o cambios de regulación y comparte ideas.
Las mejores fuentes, curadas por nuestro equipo. Encuentra las últimas noticias locales y globales, artículos en tendencia e ideas del sector.
Navega por todas las colecciones
Parece que les gustamos
"Inoreader offers a well-designed readable interface, good search and discovery options and a nice set of features that are both beginner-friendly and offer plenty of options for advanced users."
"If you're feeling media burnout from overfed social feeds, Inoreader is a news tool that still sparks joy. It's a research tool, intelligence briefing portal and social media filtration system."
"Inoreader is one of the most feature-packed free RSS readers. A great tool for power users, but it's very accessible for beginners as well."
Crea tu propio feed de noticias
¿Listo para probarlo?
Comienza una prueba de 14 días, no es necesaria tarjeta de crédito.
Create account