Volver al Blog
Mobile App Update: Discovery section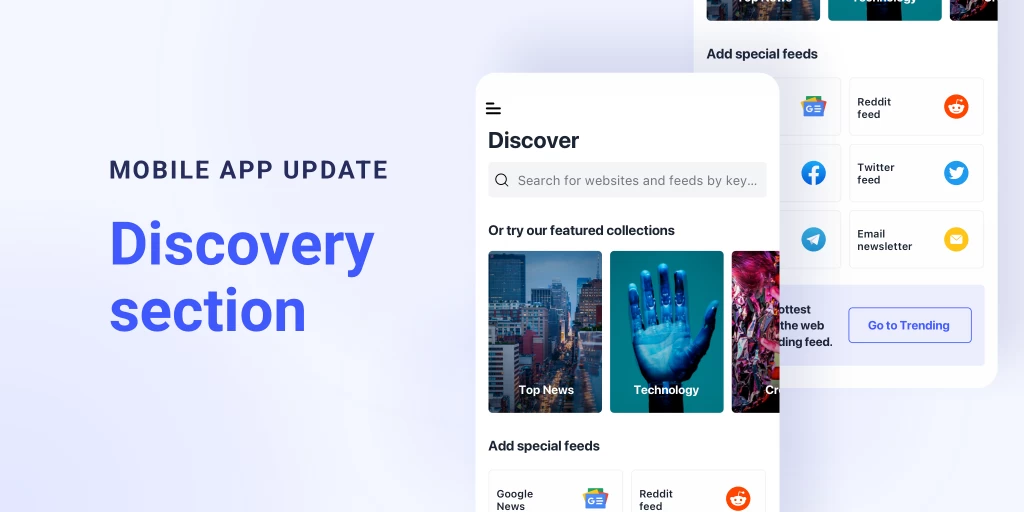 Here comes the latest improvement of Inoreader's mobile app: we are glad to present the Discovery section! Using Discovery, you can:
Search for your favorite content creators and add them to your feed
Discover collections and publishers
Add Google news searches
Add Facebook Pages
Add Telegram Channels
Add a Reddit Feed
Subscribe to newsletters
Discover great articles in the Trending section
We know that all of you spend more and more time on mobile. With the latest update, we increase the type of sources that can be part of your news feed.
Adding social media profiles, newsletters, and other essential sources for your personal and professional life will help you regain control of your news feed.
Do not waste your time on unnecessary swiping and scrolling infinite feeds of needless content: leverage your knowledge and abilities with relevant content.
If you still don't have our app on your phone, you can get it here:
Download Inoreader and take back control of your news feed now!