Torniamo al blog
Help your team stay in the loop with our updated email digests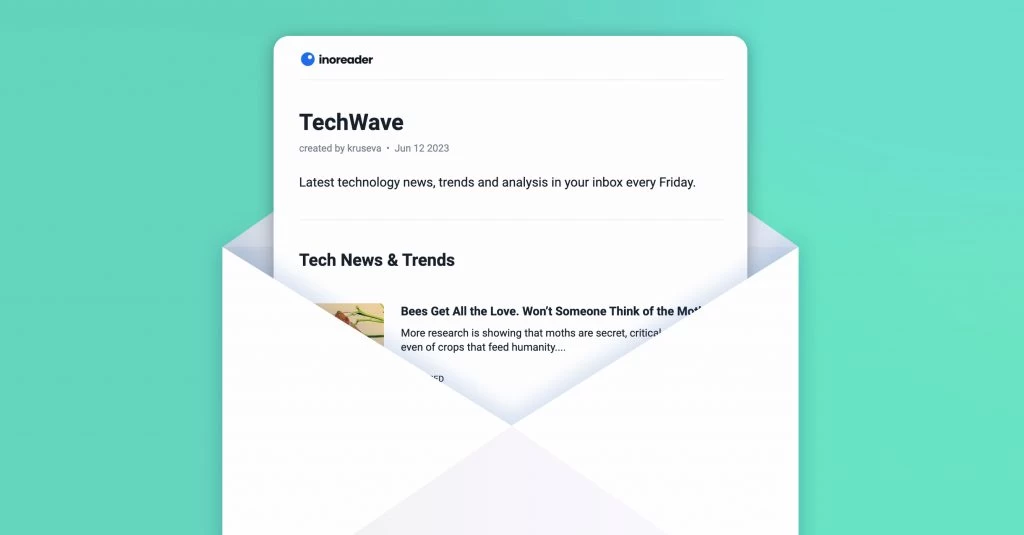 We're excited to announce the latest update to our email digests – a complete redesign of the creation process that makes it more intuitive and user-friendly, giving you full control over the desired outcome. Let's take a closer look and go through the steps that make setting up your digests easier than ever!
Step 1: Settings
To get started, add a name and description for your new digest. Then select a start date, time, and repeat option. Picking a start date will allow you to schedule the first issue of your digest independently of your repeat schedule. Whether you prefer our predefined schedules or want to create a custom one throughout multiple days of the week, the choice is up to you.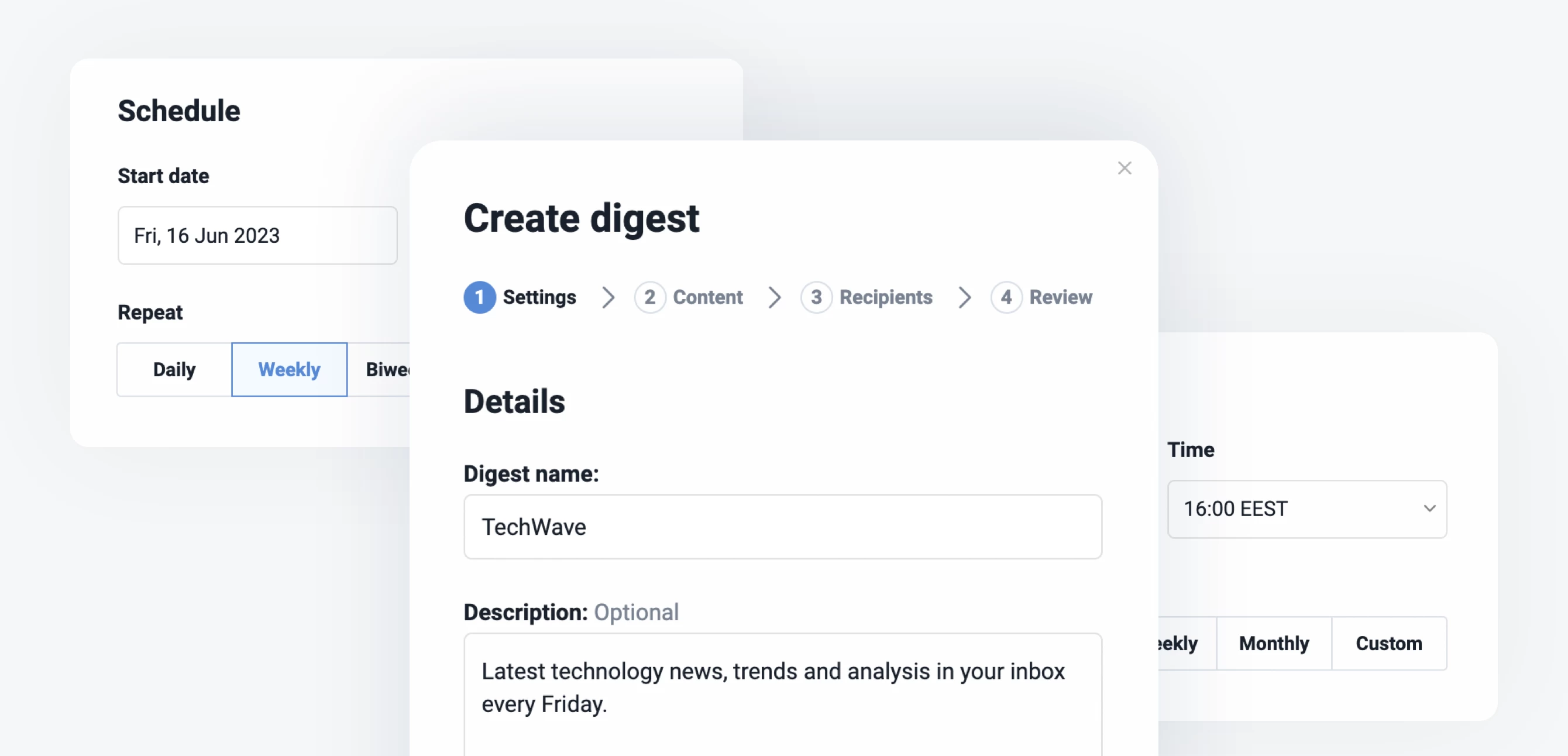 What's new: We've introduced the ability to select a start date and added new biweekly and monthly options to give you more flexibility in scheduling your digests.
Step 2: Content
In this step, you get to choose the content you want to feature in your regular digests. Simply pick a source and provide a name for the section it will be featured in (this part is optional).
What's new: You can now select content from multiple sources such as folders, tags, team channels, monitored keywords, and saved articles to be displayed in different sections of your digest. Use the Add new section button to separate the content visually and delete sections by clicking the bin icon if you no longer need them.
Step 3: Recipients
Adding recipients is pretty straightforward – just type their email addresses and hit Enter. If you make a mistake, deleting a recipient is as easy as clicking the bin icon on the right. The invitations asking team members to subscribe to your new digest won't be sent until you finalize your settings, giving you an opportunity to review everything in the final step.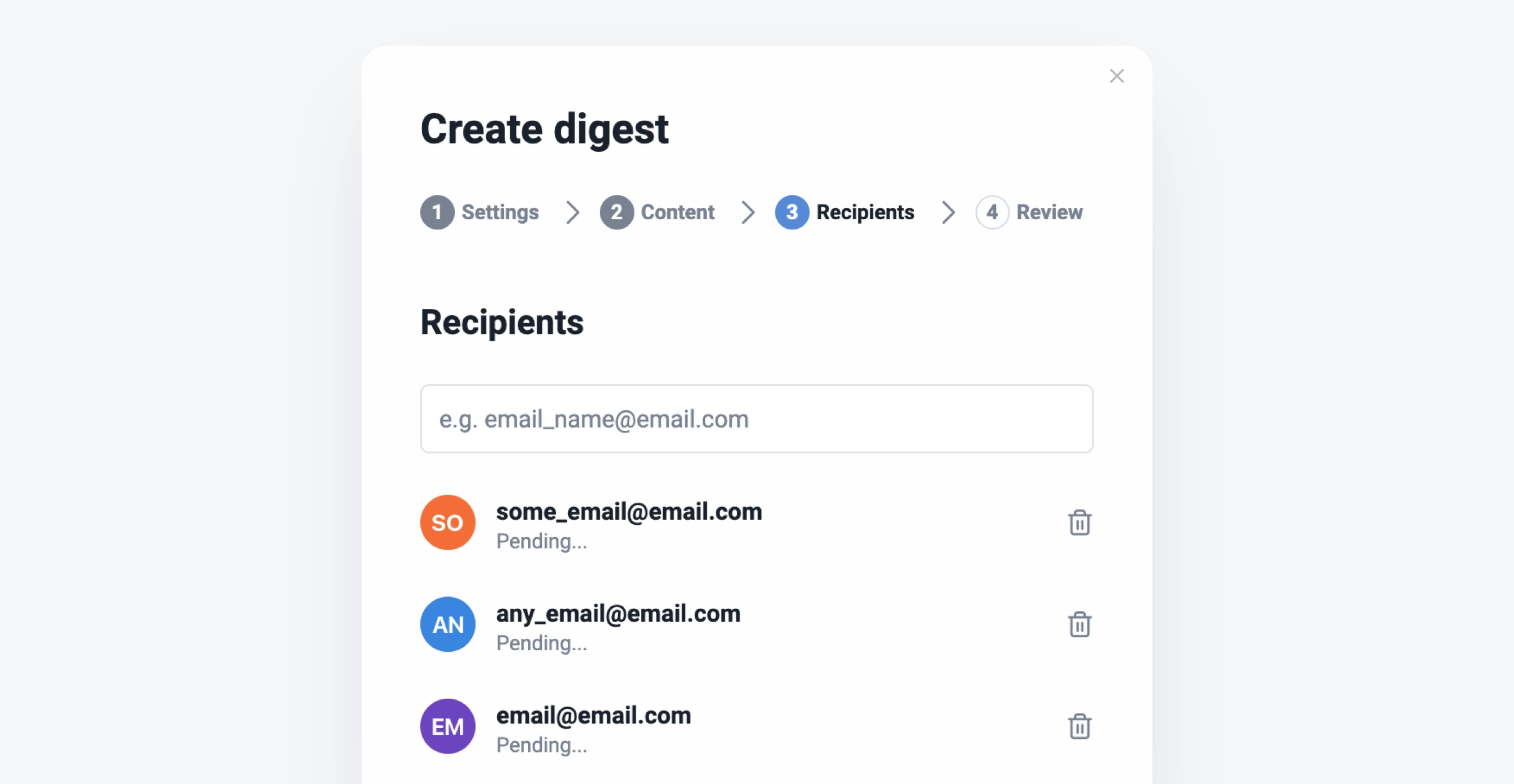 Step 4: Review
The final step of the creation process enables you to review the details of your newly composed digest, including its title, description, schedule, and recipients. Additionally, you'll get a preview of what your emails will look like. Please note that the preview displays sample articles from the selected sources, while the actual articles sent may differ. If you need to make any changes, you can easily go back before saving your new digest.
What's new: We've added a comprehensive review section and a preview option to ensure you have a final look at your digest before saving it. Additionally, you can now see which invitations will be sent out once you save the digest. This feature proves particularly handy when editing older digests with numerous subscribers, as it ensures you can easily distinguish between previously sent invitations and new ones.
Once you're finished, you can find your newly created digest in the Team digests section of your Team dashboard. From there, you can make edits or delete it at any time. Keep in mind that modifications to the digest may impact its next distribution.
By following these simple steps, you will unlock a new level of efficiency in curating and distributing valuable insights. Your team can now enjoy a seamless flow of information and embrace Inoreader's updated features to stay ahead with the knowledge that truly matters!
Email digests are available in our Team plans. Find out more about them here: