Bouw uw eigen nieuws-stroom
Met Inoreader komt het nieuws naar u toe, zodra het gepubliceerd wordt. Volg uw favoriete websites en makers, verzamel artikelen en ontdek inspirerende content van over het hele web. Filter de ruis en maak beter gebruik van uw tijd online.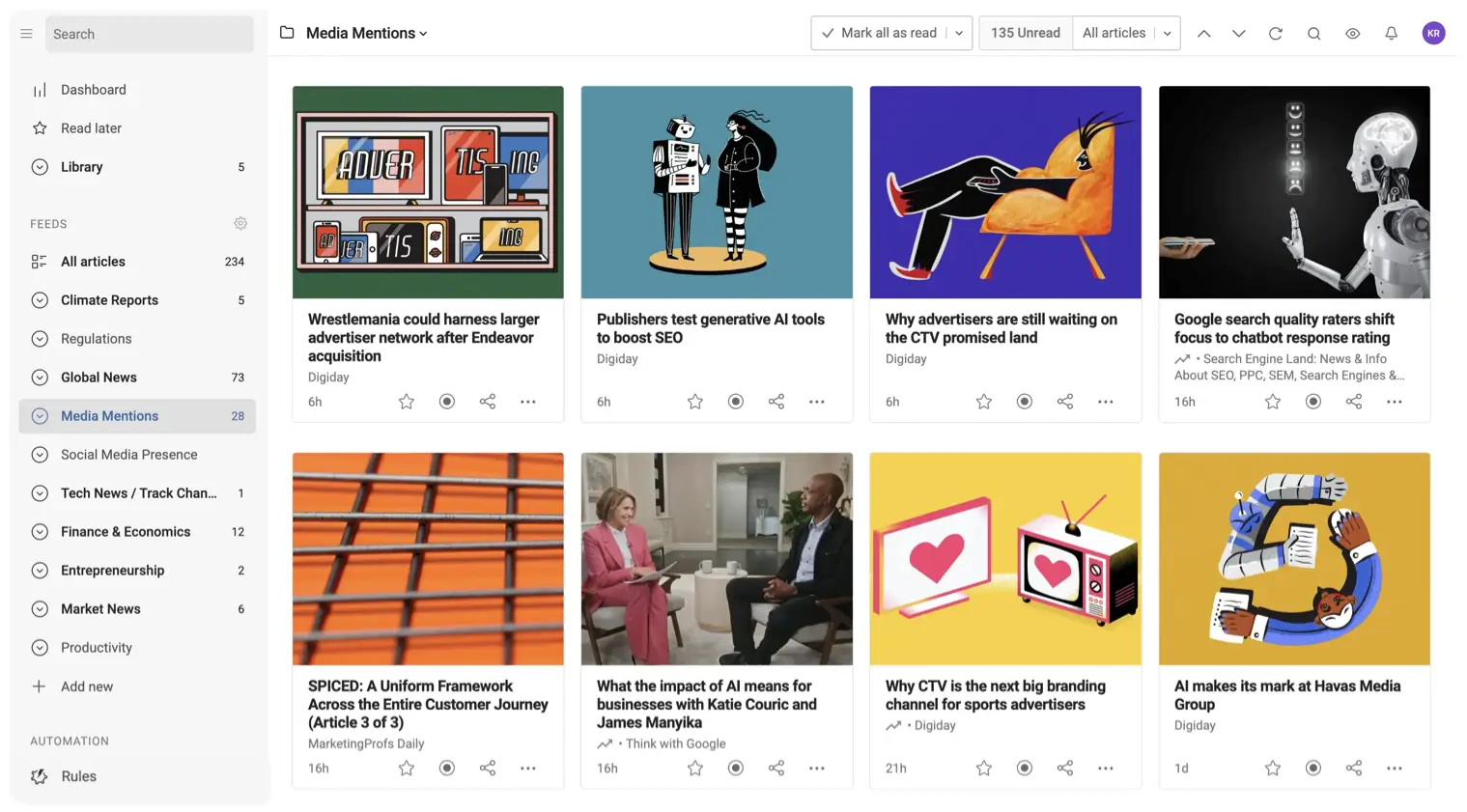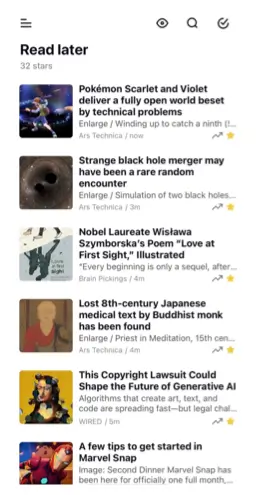 Volg uw favoriete websites en makers
Breng online nieuwsbronnen die u belangrijk vindt samen en geniet op 1 plek van het beste van het web.
Bespaar tijd met krachtige automatiseringsmogelijkheden
Ontdek efficient nieuw nieuws, zonder irrelevante dingen. U maakt de regels, Inoreader doet het werk.
Wees algoritmes en aanbevelings-formules te slim af
Zie nieuw nieuws zodra het online wordt gezet. Zet uw nieuwsstroom naar uw hand.
Opties We hebben er wat voor u.
Websites & RSS
Volg media outlets, blogs, corporate websites en nieuwsbrieven. Zoek artikelen en loop voorop met RSS en web feeds.
Sociaal luisteren
Houd Facebook pages, Telegram kanalen, Mastodon en Reddit feeds in de gaten. Synchroniseer uw Youtube abonnementen en luister naar podcasts.
Sleutelwoord monitoring
Lees over nieuwe trends en lees als eerste over nieuwe evenementen met actieve zoekopdrachten in meer dan 30 talen.
Feed automatisering
Geniet van de beste ervaring met persoonlijke feeds. Gebruik filters en regels, ken sleutelwoorden en aantekeningen toe en bewaar belangrijke dingen in mappen.
Samenwerking
Breng uw teamleden aan boord en blijf uw concurrenten voor. Bewaak merken, patenten of wijzigingen in regels en wetgeving, en deel inzichten.
De beste bronnen, geselecteerd door uw team. Vind het laatste lokale en wereldwijde nieuws, populair nieuws en industrie inzichten.
Doorzoek alle verzamelingen
Zij lijken ons te waarderen
"Inoreader offers a well-designed readable interface, good search and discovery options and a nice set of features that are both beginner-friendly and offer plenty of options for advanced users."
"If you're feeling media burnout from overfed social feeds, Inoreader is a news tool that still sparks joy. It's a research tool, intelligence briefing portal and social media filtration system."
"Inoreader is one of the most feature-packed free RSS readers. A great tool for power users, but it's very accessible for beginners as well."
Bouw uw eigen nieuws-stroom
Klaar om het te proberen?
Start een 14-daagse proef, geen credit card nodig.
Create account