Working in advertising, marketing, or PR, you may need help monitoring different brands, managing their online presence, and reporting to different clients. You can spend hours on social media and still miss out on important customer insights, search the web thoroughly, and still fall victim to algorithms and editorial picks.
Automating content discovery is a great way to save time and ensure you never miss the important stuff. Once the information your team needs is ready to consume and distribute, you can use Inoreader to guarantee it reaches the right people instantly with just a couple of clicks.
All Team members enjoy the benefits of an Inoreader Pro account. These include following Facebook, YouTube, and Reddit feeds, monitoring keywords, applying rules, and sending out email digests to keep your teammates and external stakeholders in the loop.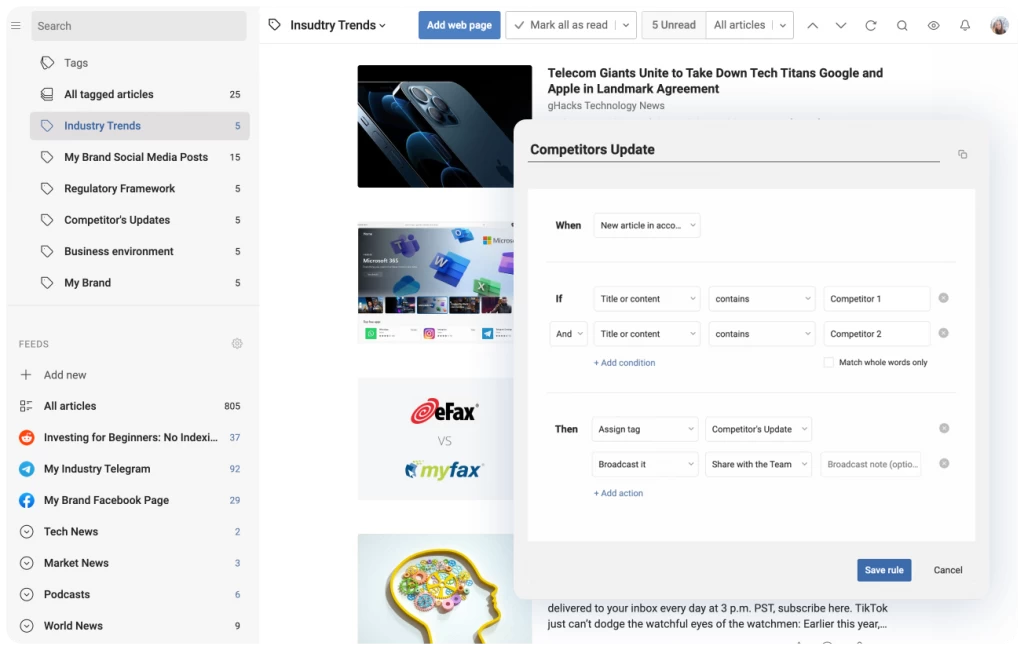 Step 1

Start tracking your brand's mentions

To get the latest updates on your brand's online positioning, you must start by setting up Keyword monitoring on search terms that matter to you. It could be your brand name, a competitor's brand, or some industry topics you want to stay ahead of. You can also subscribe to Google News feeds and set up custom Highlighters to emphasize certain keywords and phrases while reading.

Step 2

Embrace social listening

You can follow Facebook, YouTube, and Reddit feeds to keep an archive of the content you publish, but also to track other companies' activity and be the first to get updates from thought leaders and influencers. Your brand's success can also depend on celebrity endorsements, customer feedback, and current social media trends, which can all come straight to you with the help of Inoreader.

Step 3

Apply rules to sort things out

Don't have the time to go through all the updates you get in Inoreader and manually sort them out? Use Rules to help you streamline content discovery. Depending on your needs, you can set up automations to assign tags, collect articles in different folders, or star them to read later. To keep yourself informed at all times, you can also use Rules to send desktop alerts or mobile push notifications whenever certain conditions are met.

Step 4

Set up email digests

Email digests are custom newsletters made up of specific sections of your Inoreader account. You can choose the recipients and the intervals at which they will receive your updates with a summary of all new articles in a desired section. This way, you can send out automated reports on the content you have published or gathered and keep your colleagues or clients who don't use Inoreader up to date. Combined with the ability to broadcast articles to your Team members directly, email digests give you the ability to optimize the distribution of content among your team and increase your organization's productivity.
After completing these steps, you will be ready to tap into Inoreader's full potential. You will start receiving updates about the companies and brands you follow, get meaningful insights from social media, and automate the way you discover, collect, and share content with others, saving valuable time and resources.
Unlock the power of collaboration with an Inoreader Team plan. Once added, each team member can discover relevant content and share the most valuable insights with others to collaborate on. In the case of communications experts and agencies, this could mean sharing good practices, ideas, and news with the rest of the team to brainstorm or take action.
Step 1

Set the Team

You should begin by having the account administrator invite all Team members. Then, they will receive an email invite to join the Team and start collaborating.

Step 2

Create Team channels

The admin can then create some Team channels and invite respective members to join them. If your organization uses Microsoft Teams or Slack, you can integrate both with Inoreader to facilitate easier content distribution among platforms.

Step 3

Enhance the experience with Bundles

All Team members can create Bundles. A Bundle is a collection of feeds that Team members can subscribe to with a single click. This provides excellent onboarding solutions for new members who can add the preselected feeds at once and start discovering content immediately without wasting time searching for relevant sources to follow themselves.
And there you are, good to go! All team members can now follow the best sources and collaborate by sharing insights. Your team can use the time saved to focus on new projects, optimizations, and creative ideas.
The typical workflow
1

All users go through their feeds and monitored keywords

2

Relevant content is added to a Team Channel

3

Members of the Channel review articles and decide on future activities
Organizational wins
Step 1

Saved time from browsing and searching

Enjoy access to all sources you need in a single place – no need to manually search the whole web and collect articles anymore.

Step 2

Automated social media intelligence

Don't miss out on brand mentions and important updates with our social listening features. Monitor your brand's online reputation and be the first to learn of new trends.

Step 3

Increased efficiency in content distribution

Allow yourself more time for storytelling and creative ideas by optimizing reporting procedures.