In the crypto world, staying on top of the hottest news and events has enormous importance and often can make a difference. The market evolves constantly, new trends form, new stars rise, projects fail, and new opportunities emerge. 
We, at Inoreader, are permanently following the content consumption trends and are ahead of the mainstream. We know what the speed of information means for the busy professional and how important it is to keep what's meaningful and filter all the noise. 
The Inoreader PRO subscription plan allows you to create a mailbox within Inoreader and subscribe to the important newsletters for you. There is no need to leave your personal email here and there, and this means no spam and no overflown inbox anymore.    
In 2021 crypto, web 3.0, and NFT's dominated the newsflow, so we searched for the most relevant industry newsletters. You can follow all of them with Inoreader and collect the best in your Library.
How to subscribe to newsletters with Inoreader in 5 steps:
1. Go to Add New… and choose Newsletter
2. Choose how to name your Inoreader mailbox
3. Click on Save
4. Use your new address for your subscriptions
5. Start consuming what's important
The Block
Breaking news is delivered every weekday. Two other newsletters are sent over the weekends – Signal Boost and Weekend Wrap with a breakdown of the news throughout the week. Subscribe here
The Ledger
This newsletter is issued weekly by Fortune and provides quality content on the intersection between technology and finance. Subscribe here
State of Crypto
The CoinDesk weekly newsletter is looking at the intersection of cryptocurrency and government. News about regulations, markets, ETF's and more. Subscribe here
Decrypt
The top crypto stories, daily market updates. Weekly roundups, original features, and analysis. Subscribe here
Coinsnacks
A weekly newsletter, described by its creators as "an easy to digest cryptoasset investing news, trending stories, pricing indicators & more – without the shills." Subscribe here
The Wolf Den Crypto Newsletter
Cryptocurrency analysis, charts, education, and trading psychology and emotion lessons. Subscribe here
How does the Inoreader mailbox work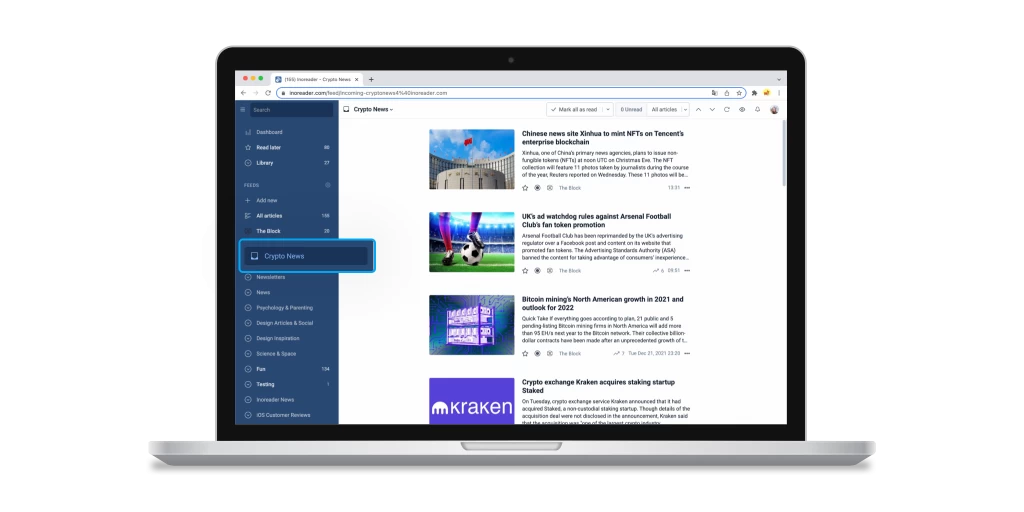 Your Inoreader mailbox receives your newsletters and converts them into a feed. This feed can be found in the sidebar, where all other feeds are displayed. If you want to unsubscribe from a newsletter, click on the unsubscribe button of the particular mail.
The best part: the inbox is a feed, so you can set filters and rules, add tags, stars, or annotations! You can star every single mail or assign a tag or an annotation to it for further classification. You can even set a rule and automatically assign the incoming mail to a tag, folder, or notification. It is simple – just try it! 
Inoreader Newsletter feeds are available for all Inoreader PRO subscribers. You can try Inoreader PRO with our 14-days trial (no credit card required).
Read also:
Three content consumption trends from 2021 to last in 2022
Declutter Your Inbox. Subscribe to Email Newsletters Straight Into Inoreader
Read the web in your language with Article Translations