We all know Telegram – in case you do not – it is an instant messaging system that attracts more and more users with its secure messaging. As of December 2021, the platform has more than 550 million users worldwide and is working on enhancing its messaging and broadcasting abilities. A growing number of publishers add Telegram as a service to their readers and it is steadily becoming a major place for news and trends.
Do not worry – you are not going to miss anything as Inoreader is adding Telegram Channels into our features! With Inoreader you will be able to discover and follow channels and turn them into feeds. And this means that you can apply all your monitoring rules to them – you can organize new posts into folders and tags, annotate, share and do whatever you need!
Following a Telegram Channel within Inoreader is available for all Inoreader PRO subscribers. You can try it immediately if you start your free trial (no credit card needed).
What are Telegram Channels?
The Telegram channels are a broadcasting tool – brands, media or people can send public messages to large audiences. There is one huge advantage of using Channels: as Telegram is a messaging platform, the messages reach the target audience directly, sending notifications with each post.
Telegram Channels are used by media organizations and public figures, influencers, creators and traders with a single goal: to stay in touch with their readers, voters and fans.
Be aware: Telegram Channels are different from Telegram Groups – despite the fact that they may look very similar, there are some significant differences: all posts within a channel come with the name and the photo of the channel and not with the credentials of the person who posted them. Channels are a tool for broadcasting and Groups are a tool for discussion, interaction, and collaboration. More on the topic can be found here.
Why do you need to follow Telegram Channels?
If you want to monitor a topic or a subject closely, you need to find the right sources for successfully doing it. Telegram is a trending messaging platform and its Channels feature is growing rapidly within some groups of early adopters – you can take the crypto and NFT community as an example.
You need to find the right channels to be sure that you do not miss an important trend or event.
We all know what happened in Reddit in 2021: this was the platform where the Meme Stock mania began and most were unaware of what was provoking huge share price swings before the information appeared in the mainstream media. You can get back to the Meme Stock Revolt here. (a quick reminder: with Inoreader PRO you can follow Reddit forums).
You do not want to miss the next Big Thing so Inoreader is here to help – now you can easily turn every Telegram Channel into a feed ant to include it into your own monitoring.
How to turn a Telegram Channel into an Inoreader Feed?
Inoreader allows you to convertTelegram Channels into feeds and to add them to your folders, tags, and rules. It is really easy:
Through the Add New menu in the sidebar
Through the Search Box
Add New menu:
Click on Add Feed in the Sidebar, choose Telegram Channel
In the search bar type whatever you are searching for and push Enter
Browse through the results and click the Follow button on the chosen Channel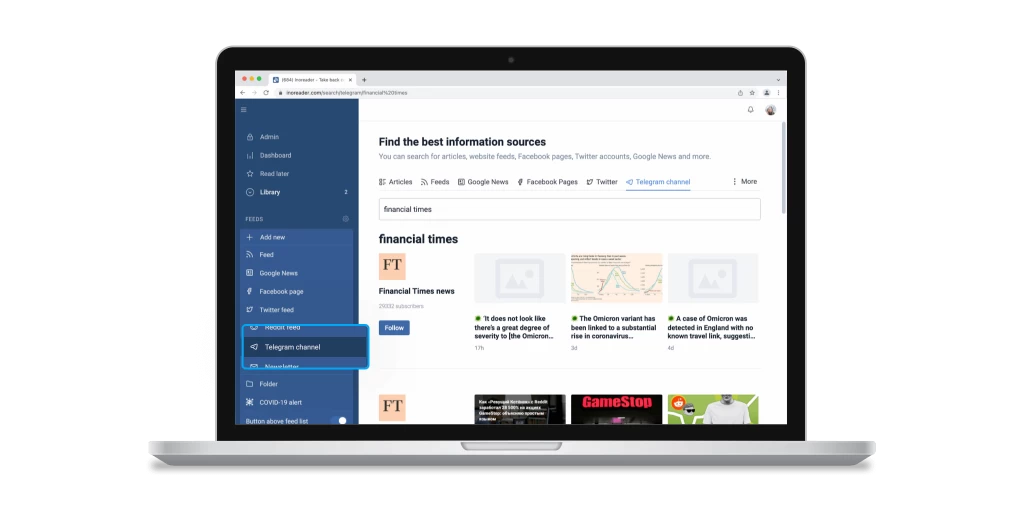 Alternatively, you can place the exact URL of the Telegram Channel into the search bar and press Enter.
Search box:
If you have the Channel URL, you can paste it directly into the Search Box on the upper left corner of the screen. Paste the URL, hit Enter, and voila – the Channel is added to your feeds!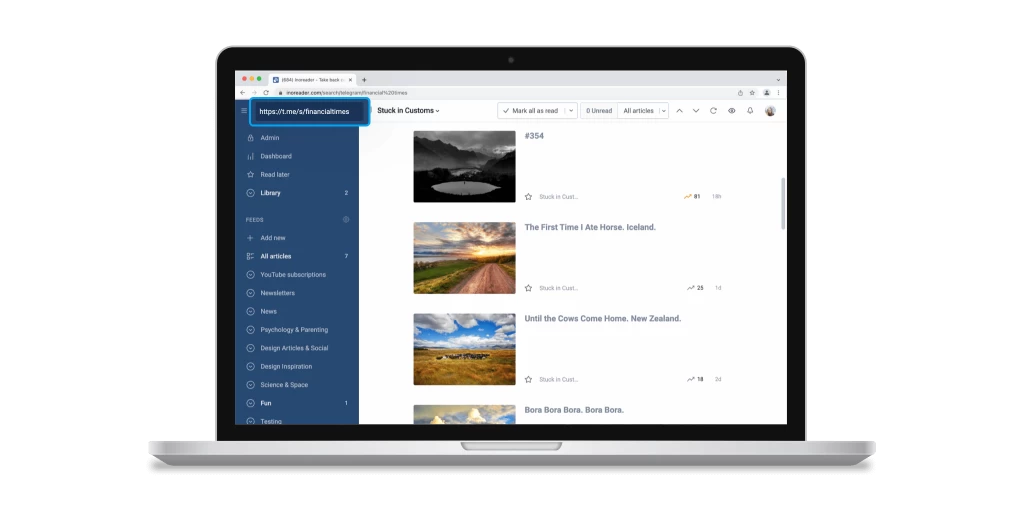 Be aware that Inoreader is able to convert only public Telegram channels into feeds. The private channels and all Telegram groups are not eligible for following outside the messaging platform.
Are you ready to turn Telegram into a feed? Login to your Inoreader PRO account and explore the new feature!
You are not a PRO subscriber? Try Telegram Channel with our free trial now (no credit card needed)