Back to Blog
How to Monitor Reddit for Stocks, Trading and Social Trends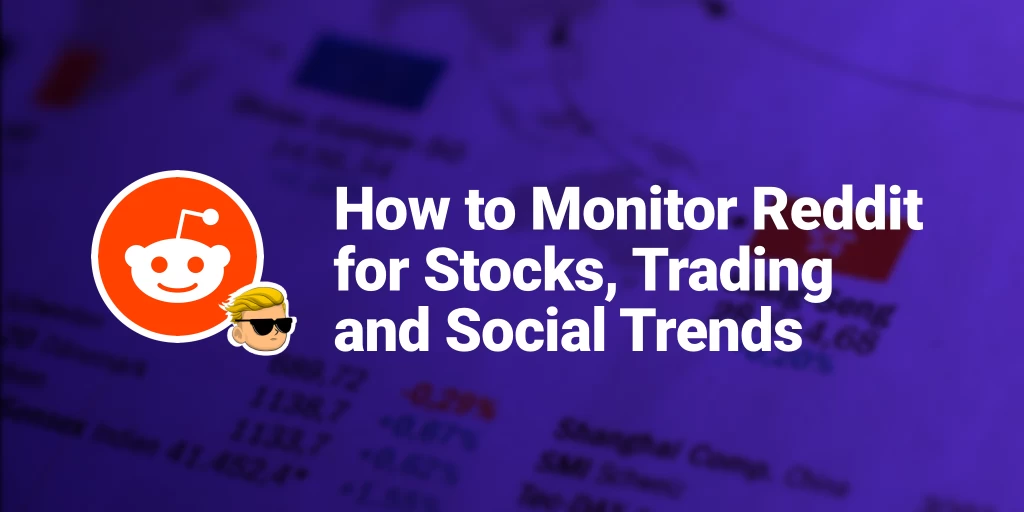 Reddit finds itself front and centre as a major influence in affecting stocks and shaping the trading industry as a whole. Investment professionals are now well aware just how much groups on Reddit such as the r/wallstreetbets trading Reddit community can bring under an entire hedge fund.
So… how does one monitor Reddit not just to gain insight on stocks, but also social trends that are picking up speed?
RSS emerges as the clear winner. Inoreader has been built to perform and follow highly specific searches, which then can be further augmented with the right advanced features.
We'll show you how step by step!
* This is not an investment advice.
An easy way to track Reddit mentions of NYSE and NASDAQ stocks
If we're to learn anything from the outright war between the day trading Reddit community and major hedge funds (once regarded as indestructible forces on the investment market), it's that individual traders have just as much power thanks to online spaces like Reddit.
The on-going struggle for dominance embodied by the storm surrounding GameStop stocks is not without its practical lessons. For one, it points investment professionals to Reddit and other social media platforms as valuable sources of information, which can have direct effects on both NASDAQ and NYSE. Social media and forums are not to be ignored where the stock market is concerned.
Subscribe to feeds based on search terms from Reddit in Inoreader
Inoreader prides itself on its user-first philosophy, which has been the driving force to introduce a successful portfolio of features for search and curation.
We're the first to recognize Reddit as an important source of user-generated content and have then perfected a strong search targeting the platform itself.
Search Reddit and find relevant information
Inoreader has a powerful native search, which can be used in multiple scenarios to wield the best results whether you point it inward to your subscriptions or outward at the Internet at large. You're able to make the search as specific as you want and keep it active.
What we've also made possible is to turn the search directly to Reddit itself. All you have to do is type in the keywords you're interested in and click on Reddit right next to the search bar. That's how you receive a number of subreddits most relevant to your search as well as a list of threads in various subreddits.
This search function is a game changer considering how notoriously impractical the actual Reddit search function is. One search on Inoreader gets you the results you want in seconds.
Subscribe to Subreddits or monitor your search word
Once you have all the results, you have two options in front of you. One would be to subscribe to the subreddits that best fit your subject. Reddit has a strong investment community with at-home day-trading rising in popularity over the years. You can follow r/pennystocks and r/investing. But you want the hot tickets – r/wallstreetbets. Even GME-themed subreddits are on the rise with r/GME and r/GME_boardroom active.
Of course, rather simply follow a whole subreddit, you can subscribe to your search and get new updates across many subreddits that contain your keyword. The next step is to trim the fat and get only posts that directly overlap with your goals.
Use filters to filter out noise
Populating your Inoreader dashboard with subreddits and custom active searches is only the first step to effectively monitoring discussions about stocks on Reddit. Now is the time to think about the specific posts and threads you want to see in real time.
By its nature, Reddit generates constant output from its users and you'll discover subreddits like r/wallstreetbets to experience an even higher activity now than any other time since its creation. As a result, investment professionals and traders have a high volume of information to go through in order to find crucial information.
Inoreader removes all manual labor thanks to its evolved curation tools.
Content filters to remove content based on keywords
Inoreader empowers users to further curate their feeds through easy filtering features. Following an entire subreddit comes with white noise and threads that don't give you any relevant signals on stocks or what individual investors are gearing up to do.
Key into the conversations that matter to your end goals most by filtering subscriptions based on important keywords. For traders, these can be 'sell', 'buy', 'hold' or the name of any particular stock of interest. These are signals that indicate people's attempts to influence purchasing decisions.
As with most Inoreader features, users can access filters directly through the feed by right-clicking and selecting Filter feed. There you have the choice between receiving updates, which include a specific keyword, or exclude updates based on different keywords.
With the right filters, you only have to sift through the most relevant posts and threads, and you can further clean up your dashboard by using duplicate filters.
Duplicate filters to remove similar posts.
It's not just important to receive the latest information. It's important to receive the right one and a way to shave off excess headlines clogging your dashboard is to mop across your subscriptions with duplicate feeds.
Duplicate feeds exist to declutter bursts of similar breaking news reported on by multiple sources all at once. When you have an active community on a subreddit, you're bound to receive a wave of posts and threads sharing the same information. You can observe the same situation across more than one subreddit. Remove excess scrolling by turning on duplicate filters, which remove easily identical and near-identical headlines.
To activate this feature, double click on either a folder or specific feed, then choose "feed properties". Right there you're able to select the correct settings for duplicate posts and threads.
Use rules and advanced features to get "to the moon"
Investment professionals seek out the thrills of an extreme spike in the price and want to be first to ride the initial wave straight to the moon. Market volatility is a built-in aspect of trading and it's why maintaining close monitoring over news sources becomes crucial.
With the advanced features of Inoreader traders can unlock the reader's full potential to keep you up to date with every move made by individual investors on Reddit.
* This is not an investment advice.
Automate notifications for important news
Traders want to know of news as soon as they arrive. Traders want to make timely trades to seize a market opportunity when it presents itself. To that end, most important of all is to be notified of a crucial piece of news in real time regardless of where they might be.
Inoreader has thought of this and offers customizable push notifications triggered only when posts arriving in your feeds match specific criteria and trigger a rule. This feature can be found directly when creating a rule. Right-click on a subscription or a folder and set the criteria you want, then choose "push mobile notification" as the action type. It's that easy to set up and you won't ever miss important stock news and updates from Reddit.
Trade information travels with you no matter where you're going next.
Boost feeds so you can get updates even faster
Monitoring stocks is not one of those activities you can approach at a leisurely pace. Therefore, it is simply not enough to wait for Inoreader to crawl subreddits at arbitrary intervals set by the sites themselves. Assume control over refresh speed and shorten the update interval to almost real time thanks to Boost Feeds.
Inoreader does a lot to manage user experience especially when it comes to the timeliness of news and articles of great importance. Depending on demand, Inoreader can bump up update intervals based on user requests – a crucial feature for traders who want to stay one step ahead of the market at all times.
Do you need to boost the update interval? Right-click on a subscription to view feed information, where you can see the average update interval, when it was last crawled and a crawler log for the past week. You can click on the little rocket to boost feed then and there. Another way to boost a feed is to go to Preferences – Subscriptions and look at the status. Where you encounter "realtime" means the feed is already at its top speed. A grey rocket signals that you can boost the feed yourself.
Build daily executive digests from selected feeds
Email digests are an effective tool to disseminate crucial information among colleagues and traders have to communicate efficiently. You remove barriers to communication and stay on top of a high-paced situation as it develops on a day-to-day basis. Utilize your filters and rules to discover only the news and nuggets of information that matter to you most, then send it to your team in a clean, neat format.
To create a digest, head to Preferences – Collaboration – Email digests. You find yourself on the feature page and it's here you get to decide on the name, sources, schedules and who receives the digest. For further clarification, users can add a message placed at the top of every email – this can be anything from a description of the digest to a summary message. The feature is flexible in its selection of sources. You're able to bring in articles from a specific folder or tag.
The automated scheduling sets a time when your email digest goes out and there's no need for any further involvement on your part.
More ways for Investment professionals to identify social media trends
What the developing upheaval surrounding GameStock and AMC Theatres has revealed to hedge funds and investment professionals at large is just how powerful Reddit and social media in general can be in shaping the market. The playing field has been greatly altered and nobody really can tell what the long-term consequences are going to be.
The main takeaway, however, is the necessity to monitor social media trends and to that end, new players are emerging to meet the demand for such monitoring such as poolsapp.com and Unbiastock.com. Both democratize stock trends across social media without charging users and make investing a lot more approachable.
SimilarWeb marries tracking stocks and investments with monitoring discussions on social media and trading platforms to place the numbers within a social context and give investors a hint as to where the tide is turning. SimilarWeb tracks searches for stock ticker symbols on the near-infamous Robinhood Markets platform for instance and identifies trends early. Then there's chatter about SESAMm developing features targeting the tracking of social media – though that's not been substantiated just yet. SESAMm is known for deep analytics and pioneering artificial intelligence in aiding investment professionals.