Volver al Blog
Seamless content collection with Inoreader integrations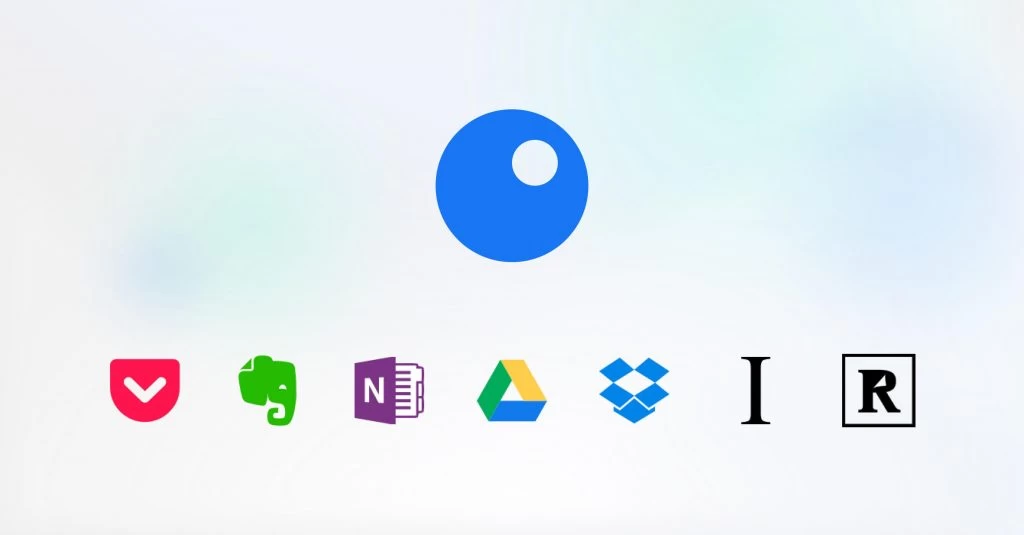 Built to empower users, Inoreader offers a wide range of integrations to enhance content management workflows. In this article, we'll explore Inoreader's integrations with Pocket, Evernote, OneNote, Google Drive, Dropbox, Instapaper, and Readwise. Join us as we delve into the capabilities of these platforms, combined with Inoreader's powerful features, and unlock the potential of a seamless ecosystem for collecting, sharing, and consuming content.
Pocket
Pocket is a popular content collection service that allows you to save articles, videos, and web pages for later consumption. With Inoreader's integration, you can easily export articles to your Pocket account and transfer tags with a single click. This enables you to keep your curated content organized and accessible across platforms.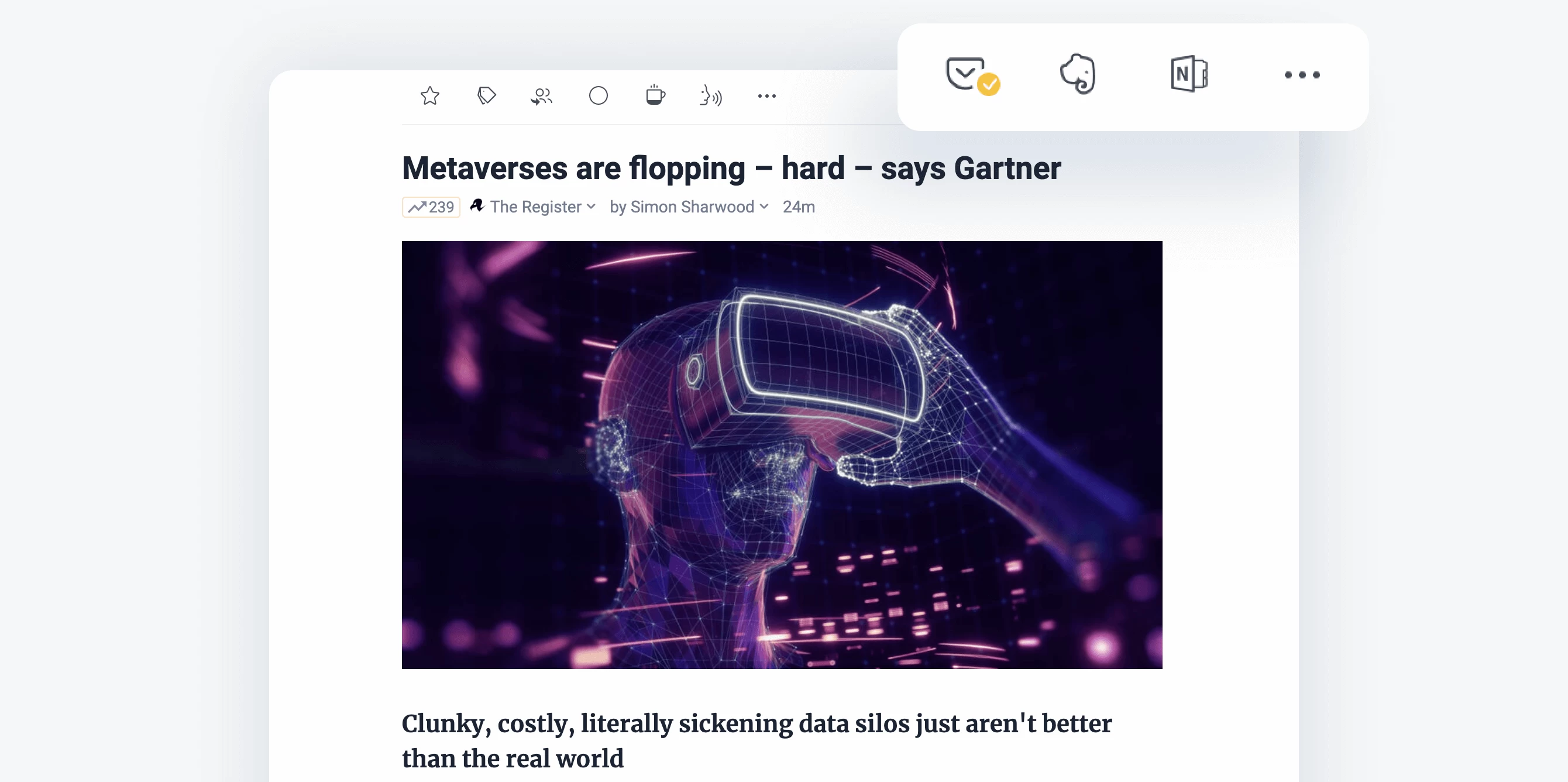 Evernote
Evernote is a powerful note-taking and organization tool. Inoreader's integration lets you save articles directly to your Evernote or Yinxiang Biji (Evernote China) account. With a single click, you can transfer tags and save the full content of articles, creating comprehensive and searchable archives of valuable information.
OneNote
OneNote is a versatile note-taking application offered by Microsoft. Connecting it to your Inoreader account lets you instantly save articles to specific notebooks and sections while reading. You can even configure rules to automate the process. The integration extends to Inoreader's mobile apps, enabling effortless article saving on the go.
Google Drive
Google Drive is a cloud storage and collaboration platform. Inoreader's integration with it offers three key functionalities. You can manually save articles as separate Google Docs, allowing you to edit and collaborate on their content. The OPML file containing your Inoreader subscriptions can be automatically backed up to Google Drive. Lastly, you can automatically send articles to Google Drive through rules, enabling you to organize and store them based on specific criteria.
Dropbox
Dropbox is a popular file-hosting service known for its simplicity and cross-platform compatibility. By linking your Inoreader and Dropbox accounts, you can save articles as neat PDF files with a single click. These PDF files are synchronized across your devices, ensuring seamless access. You can automate the process through rules, setting up your account to automatically Dropbox articles that meet certain criteria.
Instapaper
Instapaper is a widely-used read-it-later service that provides a clutter-free reading experience. Inoreader's integration allows you to save articles directly to your Instapaper account with a single click. Your data remains secure, as Inoreader does not store any of your information.
Readwise
Readwise is a platform designed to help users retain and revisit valuable information from their reading materials. By connecting your accounts, any annotations you create in Inoreader will be automatically synchronized to Readwise. This ensures you can revisit and review your annotations later, even providing a link to the book in Readwise, where the annotation is saved.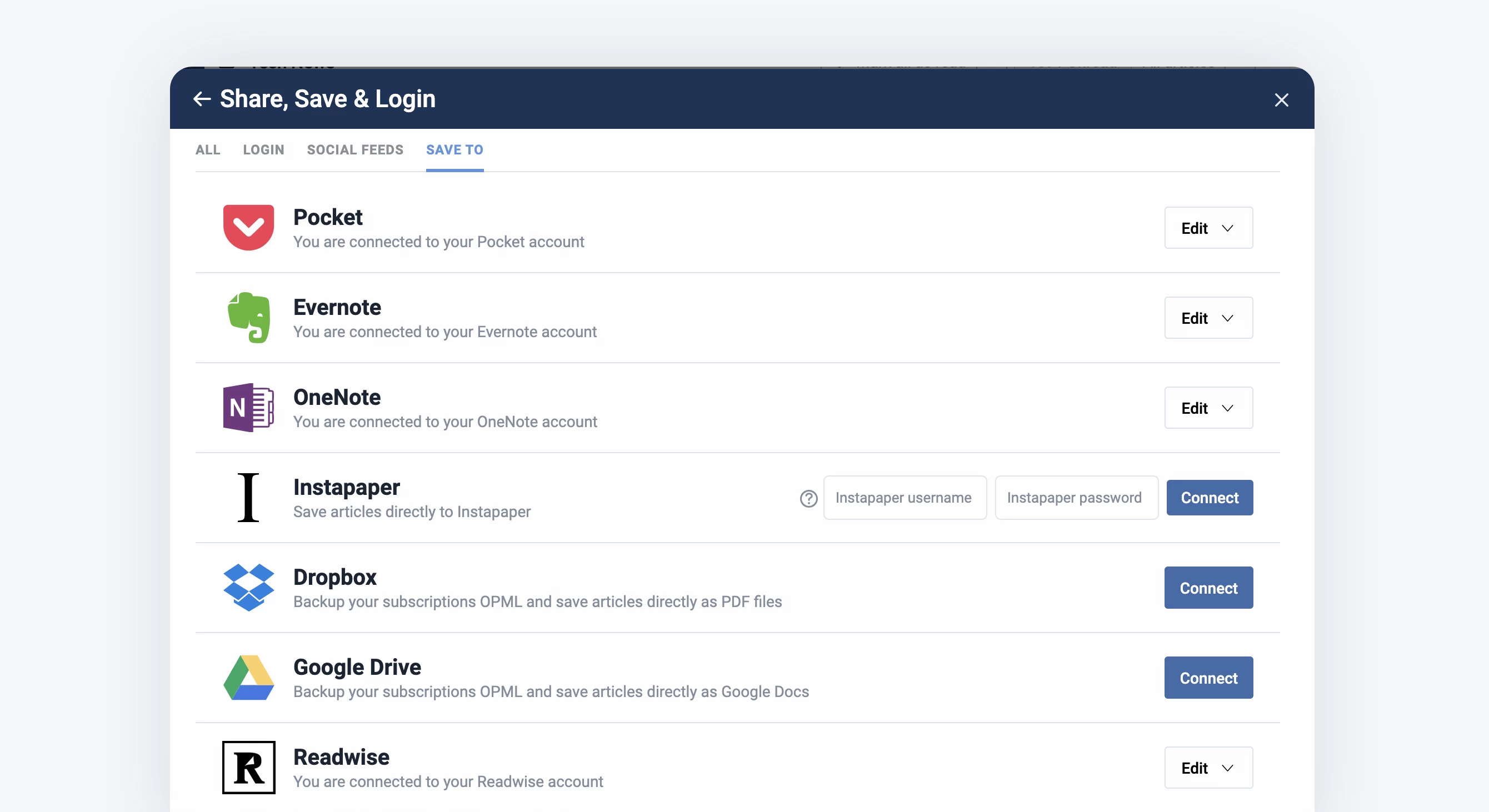 By leveraging Inoreader's integrations with Pocket, Evernote, OneNote, Google Drive, Dropbox, Instapaper, and Readwise, users can maximize their content collection, sharing, and consumption efficiency. Whether organizing curated content, collaborating on articles, or preserving valuable annotations, Inoreader's integrations offer a comprehensive suite of tools tailored to user preferences. Experience a streamlined content management workflow by harnessing the power of Inoreader!