Retour au blogue
Automate success with IFTTT and Zapier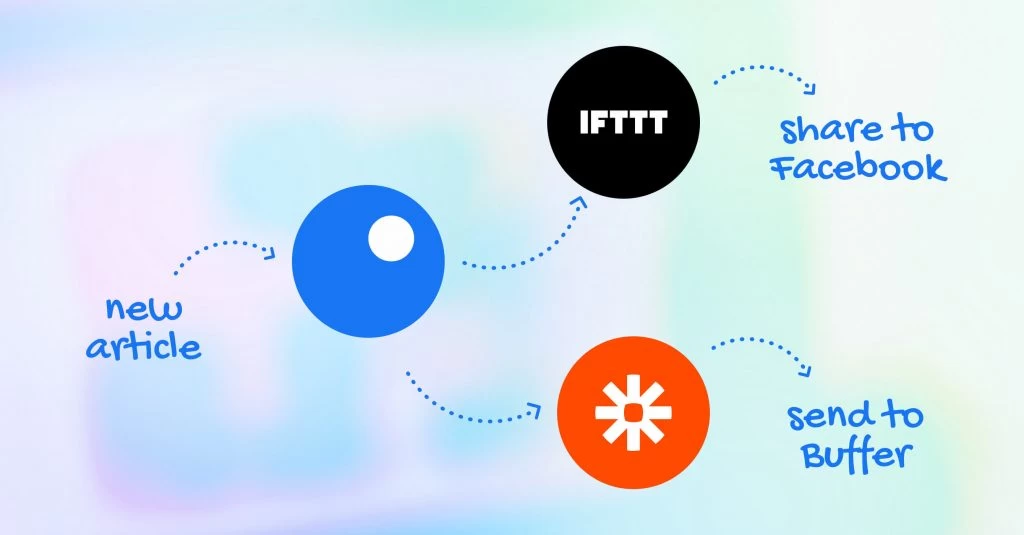 Save time and boost productivity with Inoreader's powerful integrations with IFTTT and Zapier. These automation tools provide creative control over your Inoreader account, allowing you to streamline content management and sharing. In this article, we'll explore how IFTTT and Zapier can help you unlock the full potential of Inoreader and automate various tasks seamlessly.
IFTTT: Create custom connections
IFTTT (If This Then That) empowers you to establish connections between different apps and services. By signing up for this service, you gain access to a wide range of pre-built recipes and the ability to create your own. Inoreader's dedicated channel on IFTTT offers inspiration and ideas for utilizing recipes to enhance your content workflow.
With IFTTT, you can integrate over 180 channels, including popular social media platforms like Facebook and Twitter, note-taking services like Evernote and OneNote, and mobile notifications, among others. The possibilities for automation are endless. For example, you can create a recipe to automatically share new articles with specific tags from Inoreader to your Facebook timeline or save starred articles directly to Evernote.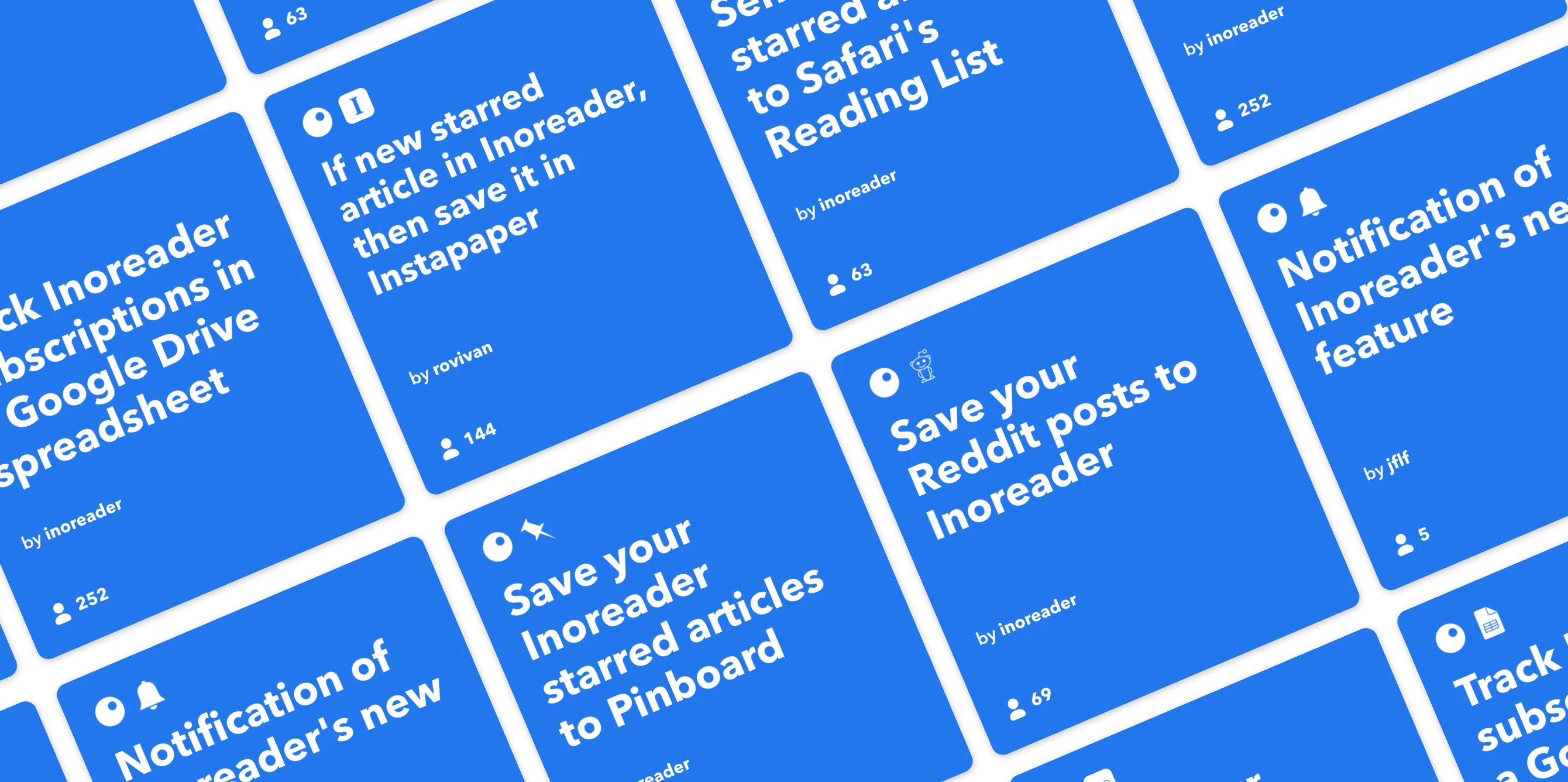 Zapier: Connect with 5000+ apps
Zapier is a comprehensive productivity tool that connects a vast array of business applications in ways that work for you. By leveraging Zapier's event-based automation called Zaps, you can streamline routine tasks and improve efficiency without coding knowledge or technical resources. Explore Inoreader's dedicated integration page on Zapier to discover the myriad possibilities and get inspired to create your own Zaps!
With Zapier, you can automate a wide range of actions. For instance, you can broadcast articles within Inoreader and send them to Buffer or automatically save your starred articles to Instapaper. Alternatively, you can save content from other apps into Inoreader, such as collecting YouTube videos matching specific search terms into an Inoreader tag. You can use Zapier to combine Inoreader with apps like Pocket, Google Sheets, Notion, Slack, Twitter, and Gmail.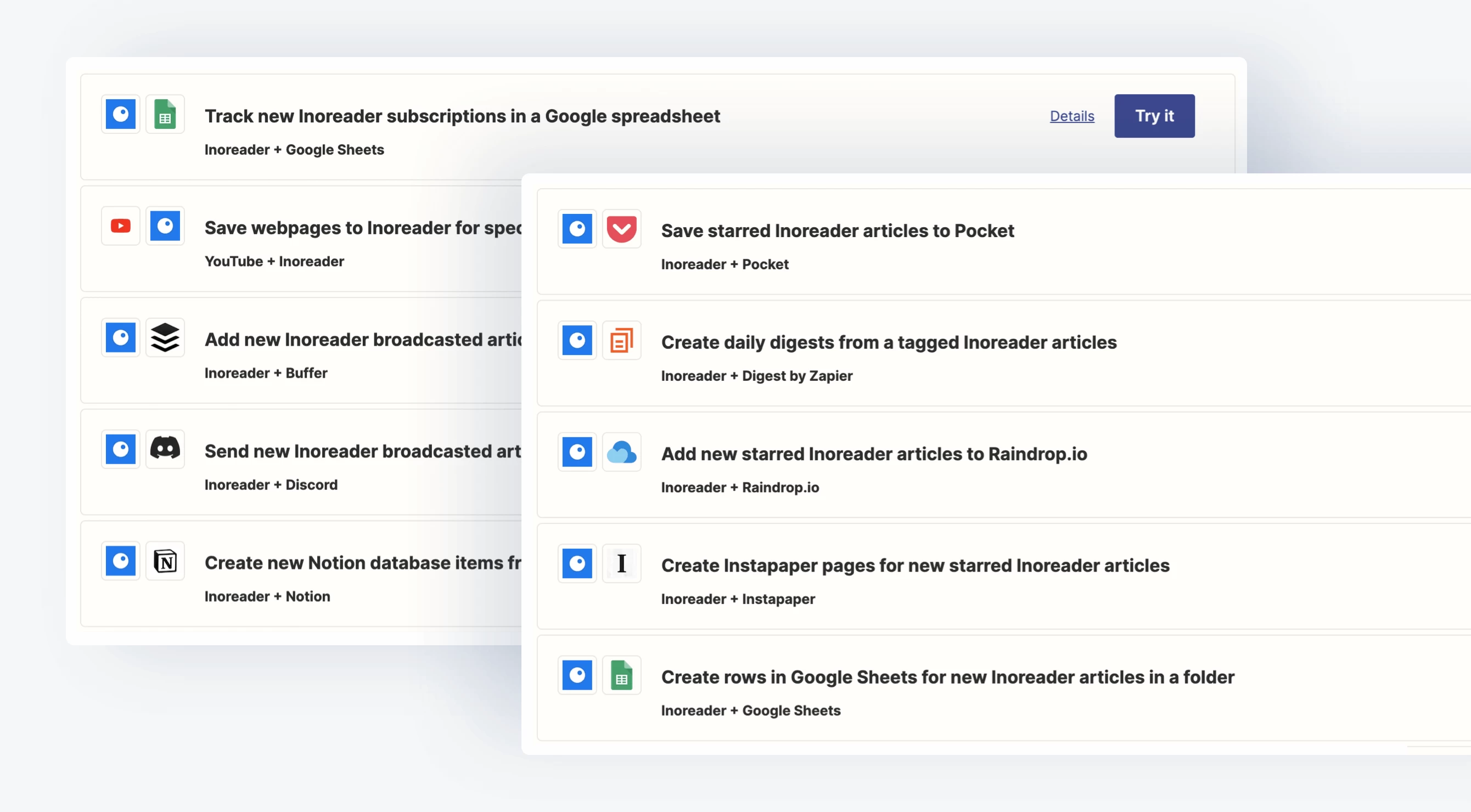 Harness the power of integrations with Inoreader Pro
Connecting your Inoreader account with IFTTT and Zapier allows you to maximize your productivity and simplify content management. With the ability to connect to hundreds of apps and services, you can create custom workflows that streamline routine tasks and enhance your efficiency. Upgrade to Inoreader Pro today and unleash the power of automation!