Zbuduj własny kanał informacyjny
Dzięki Inoreader informacje docierają do Ciebie bezpośrednio w momencie, gdy są dostępne. Śledź swoje ulubione strony i twórców, zbieraj artykuły i odkrywaj inspirujące treści z całej sieci. Odfiltruj hałas i wykorzystaj maksymalnie swój czas w sieci.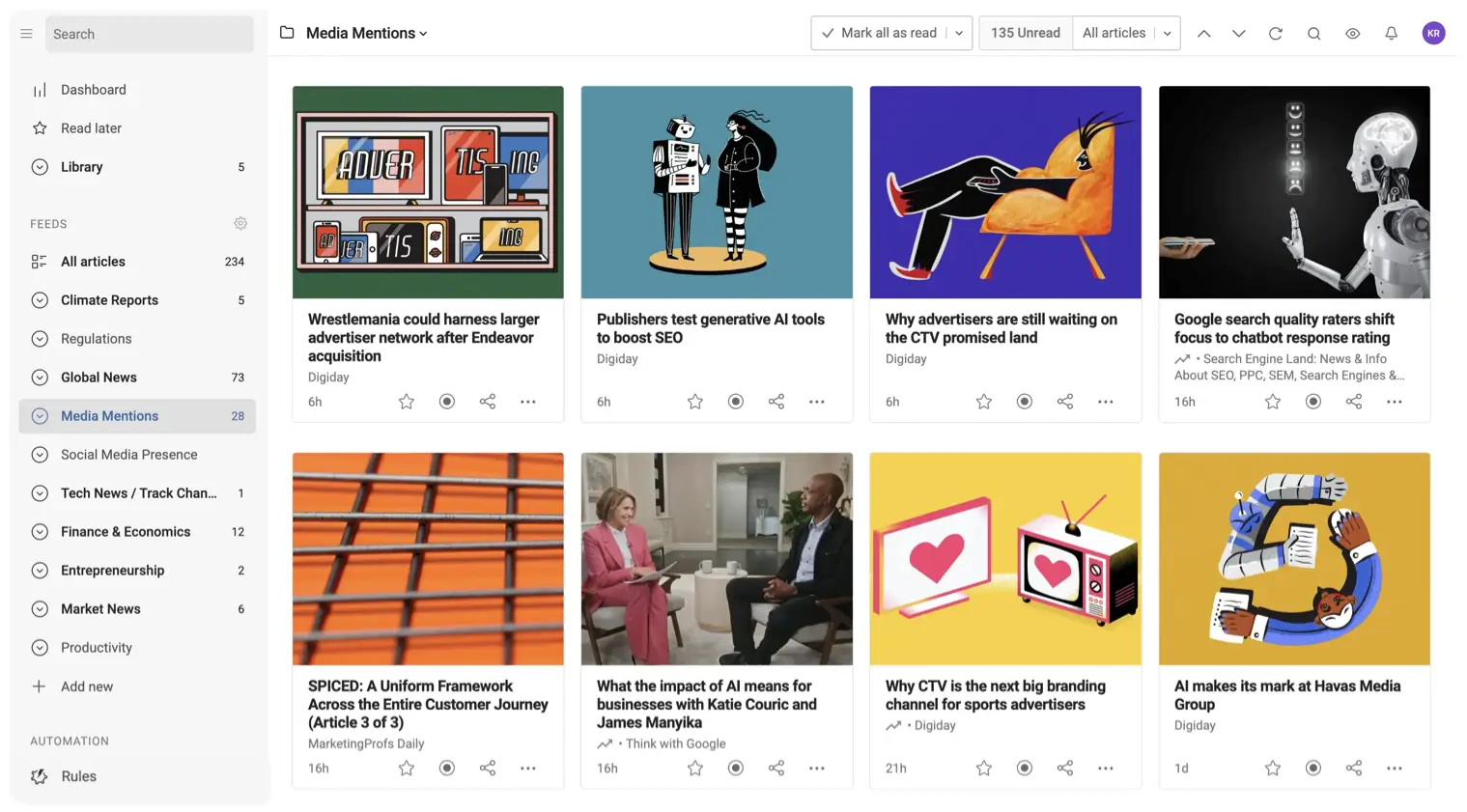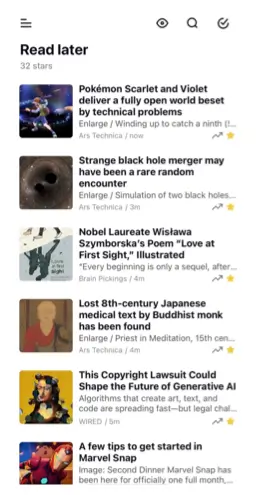 Obserwuj swoje ulubione strony i twórców
Zbierz ważne dla ciebie treści i ciesz się najlepszymi treściami z sieci w jednym miejscu.
Oszczędzaj czas dzięki potężnym automatyzacjom
Usprawnij odkrywanie treści i pomiń to, co nieistotne. Ty ustalasz zasady, Inoreader wykonuje pracę.
Przechytrz algorytmy i silniki rekomendacji
Otrzymuj aktualizacje, gdy tylko pojawią się w sieci. Dostosuj swój widok i ciesz się spersonalizowanym kanałem.
Funkcje? Mamy trochę.
Strony internetowe i RSS
Śledź media, blogi, strony korporacyjne i newslettery. Szukaj artykułów i bądź na bieżąco dzięki kanałom RSS i Web.
Nasłuch mediów społecznościowych
Monitoruj strony na Facebooku, kanały Telegramu, Mastodon i kanały Reddit. Synchronizuj swoje subskrypcje YouTube i słuchaj podcastów.
Monitorowanie słów kluczowych
Otrzymuj aktualne informacje o pojawiających się trendach i jako pierwszy dowiedz się o najnowszych wydarzeniach dzięki aktywnym wyszukiwaniom w ponad 30 językach.
Automatyzacja kanałów
Ciesz się najlepszym doświadczeniem dzięki dostosowanym kanałom. Stosuj filtry i reguły, przypisuj tagi i notatki, a to co ważne zbieraj w folderach.
Współpraca
Wprowadź swój zespół na pokład i wyprzedź konkurencję. Monitoruj marki, patenty lub zmiany przepisów i dziel się spostrzeżeniami.
Najlepsze źródła, wyselekcjonowane przez nasz zespół. Znajdź najnowsze wiadomości lokalne i globalne, artykuły o trendach i spostrzeżenia dotyczące branży.
Przeglądaj wszystkie kolekcje
Wygląda na to, że nas lubią
"Inoreader offers a well-designed readable interface, good search and discovery options and a nice set of features that are both beginner-friendly and offer plenty of options for advanced users."
"If you're feeling media burnout from overfed social feeds, Inoreader is a news tool that still sparks joy. It's a research tool, intelligence briefing portal and social media filtration system."
"Inoreader is one of the most feature-packed free RSS readers. A great tool for power users, but it's very accessible for beginners as well."
Zbuduj własny kanał informacyjny
Gotowy, by spróbować?
Rozpocznij 14-dniowy okres próbny, karta kredytowa nie jest wymagana.
Create account