Costruisci il tuo feed di notizie
Con Inoreader, le informazioni arrivano direttamente a te non appena sono disponibili. Segui i tuoi siti Web e creatori preferiti, raccogli articoli e scopri contenuti stimolanti da tutto il Web. Filtra il rumore e sfrutta al massimo il tuo tempo online.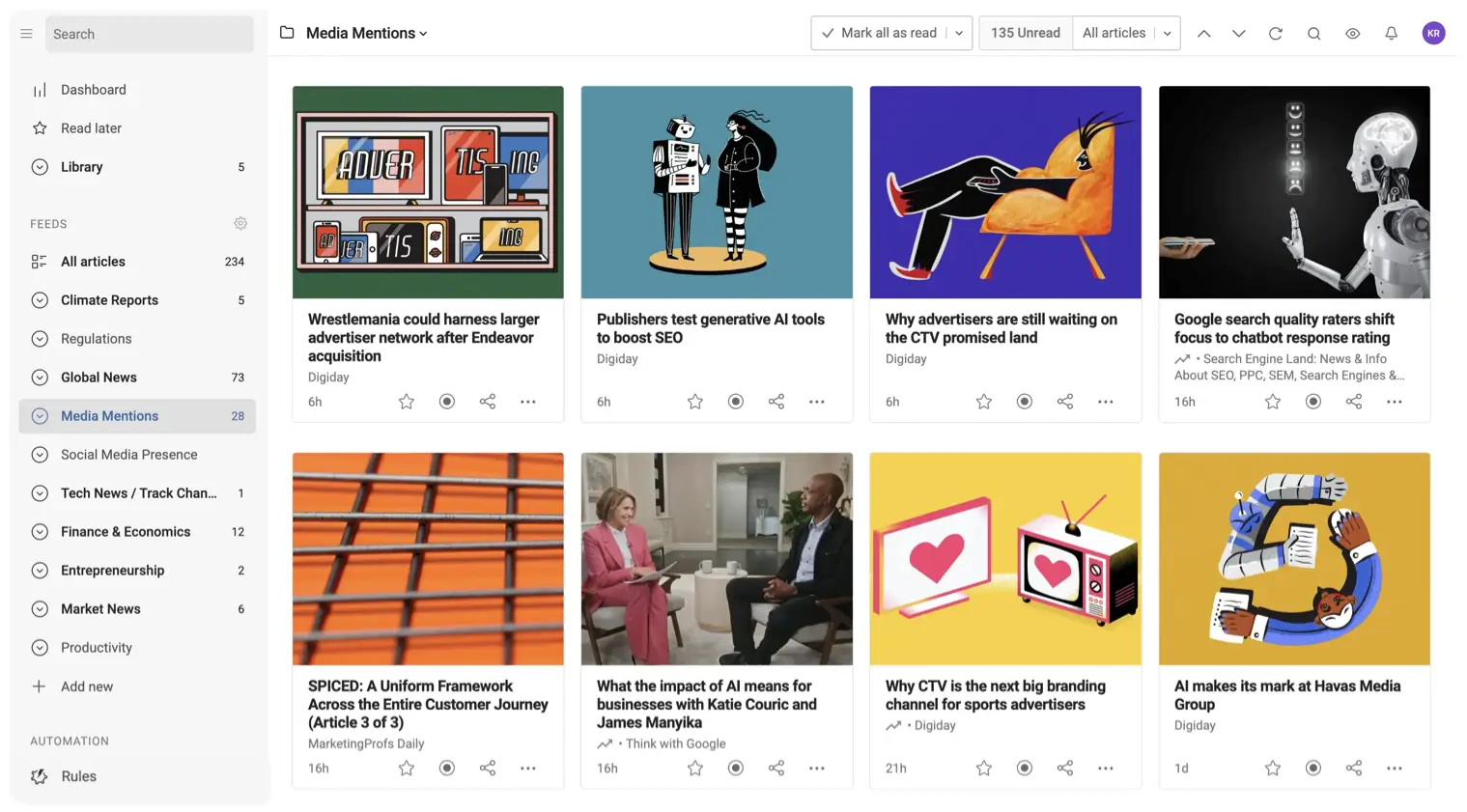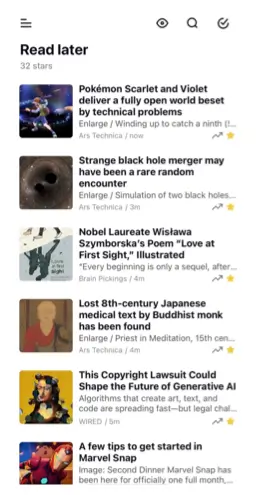 Segui i tuoi siti web e creatori preferiti
Riunisci i contenuti che ti interessano e goditi il ​​meglio dal Web in un unico posto.
Risparmia tempo con potenti automazioni
Semplifica la scoperta dei contenuti e tralascia ciò che è irrilevante. Tu stabilisci le regole, Inoreader svolge il lavoro.
Supera astutamente algoritmi e motori di raccomandazione
Ricevi gli aggiornamenti non appena vengono pubblicati online. Personalizza la tua vista e goditi un feed personalizzato.
Caratteristiche? Ne abbiamo un po'.
Siti web e RSS
Segui i media, i blog, i siti aziendali e le newsletter. Cerca articoli e mantieniti aggiornato con feed RSS e web.
Ascolto sociale
Monitora le pagine Facebook, i canali Telegram, i feed Mastodon e Reddit. Sincronizza le tue iscrizioni YouTube e ascolta i podcast.
Monitoraggio delle parole chiave
Ricevi aggiornamenti sulle tendenze emergenti e sii il primo a conoscere gli ultimi eventi con ricerche attive in più di 30 lingue.
Automazione dei feed
Goditi la migliore esperienza con i feed personalizzati. Usa filtri e regole, assegna tag e note e raccogli in cartelle ciò che è importante.
Collaborazione
Coinvolgi la tua squadra e mantieni un vantaggio sui tuoi concorrenti. Monitora marchi, brevetti o modifiche alle normative e condividi approfondimenti.
Le migliori fonti, curate dal nostro team. Trova le ultime notizie locali e globali, articoli di tendenza e approfondimenti del settore.
Sfoglia tutte le raccolte
Sembra che gli piacciamo
"Inoreader offers a well-designed readable interface, good search and discovery options and a nice set of features that are both beginner-friendly and offer plenty of options for advanced users."
"If you're feeling media burnout from overfed social feeds, Inoreader is a news tool that still sparks joy. It's a research tool, intelligence briefing portal and social media filtration system."
"Inoreader is one of the most feature-packed free RSS readers. A great tool for power users, but it's very accessible for beginners as well."
Costruisci il tuo feed di notizie
Pronto a fare un tentativo?
Inizia una prova di 14 giorni, nessuna carta di credito richiesta.
Create account