Назад до блогу
Avoid bad user experience and poor editorial choices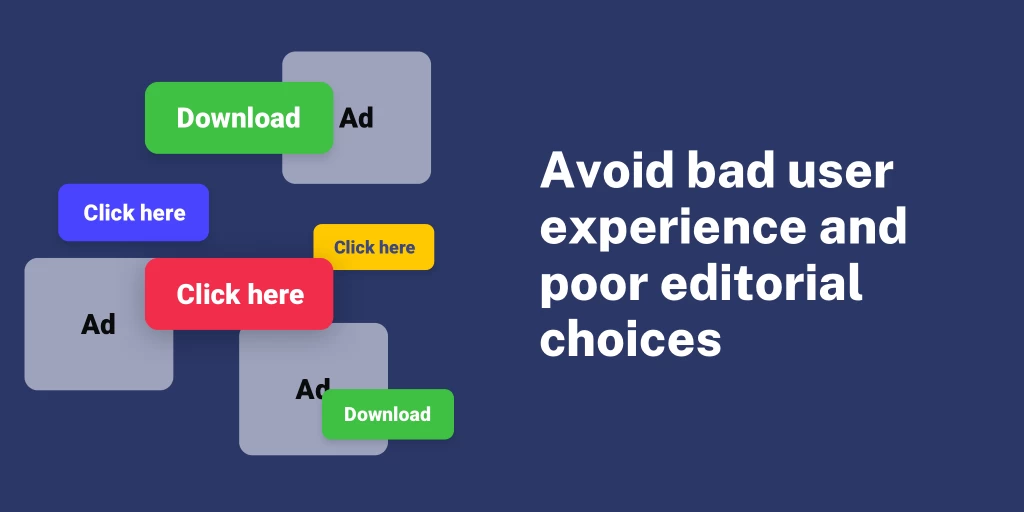 We know you've been there: you enter a website looking for relevant content, but what interests you isn't waiting on top of the front page for you to discover. What happens instead is you have to embark on a journey through the depths of the internet and fight cookie consent forms to reach what you need. A little overdramatic, maybe, but you get the point.
As different publishers have their own editorial policies and compete to engage you with banners, promos, and newsletter forms, Inoreader's ability to filter out the noise has become more relevant than ever. Learn how our Pro plan can help you navigate and declutter your web space!
Be your own curator
Online media outlets often rely on in-house editors to arrange their content. Their sorting policy, however, may not entirely align with your expectations. Even worse, it could sometimes not be up to a person, but an algorithm to decide what content should be pushed forward, what you'll see, and what you'll miss.
With Inoreader Pro, you can be your own curator and approach the topics you care about in a way that works for you. Combine different sources in collective feeds and choose to view the newest or oldest pieces first. You can also let our Magic AI tool pick the most relevant content for you. Don't worry, you can always control the amount of personalization in your settings!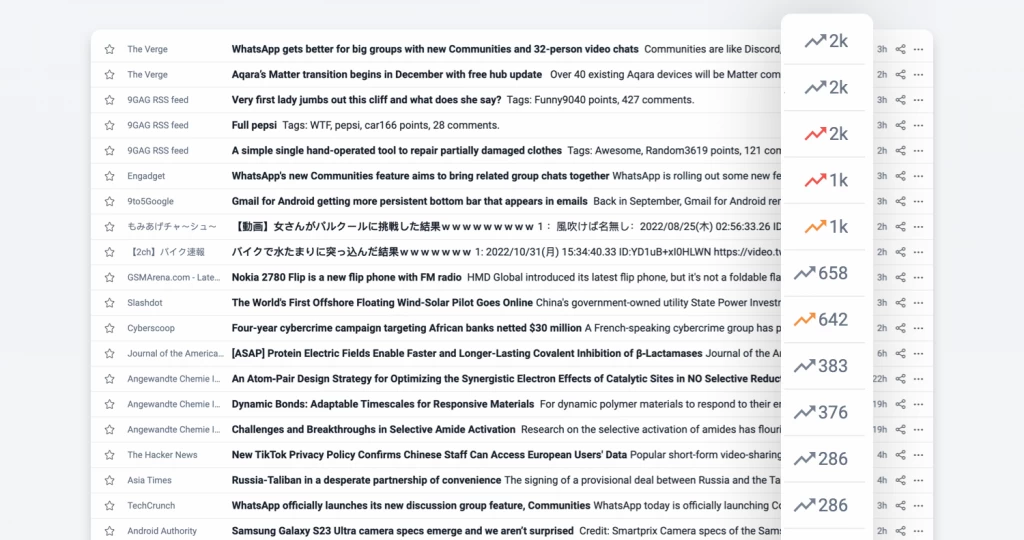 Leave sponsored content out
As advertisers strive to engage users with different formats, sponsored articles are also on the rise. Most people don't particularly enjoy advertorial content, which is why Inoreader gives you the ability to filter it out using Rules. Next time you see a sponsored piece in one of your feeds (given it is credited as such), you can select the author and create a rule to automatically mark their articles as read in the future, like in this example: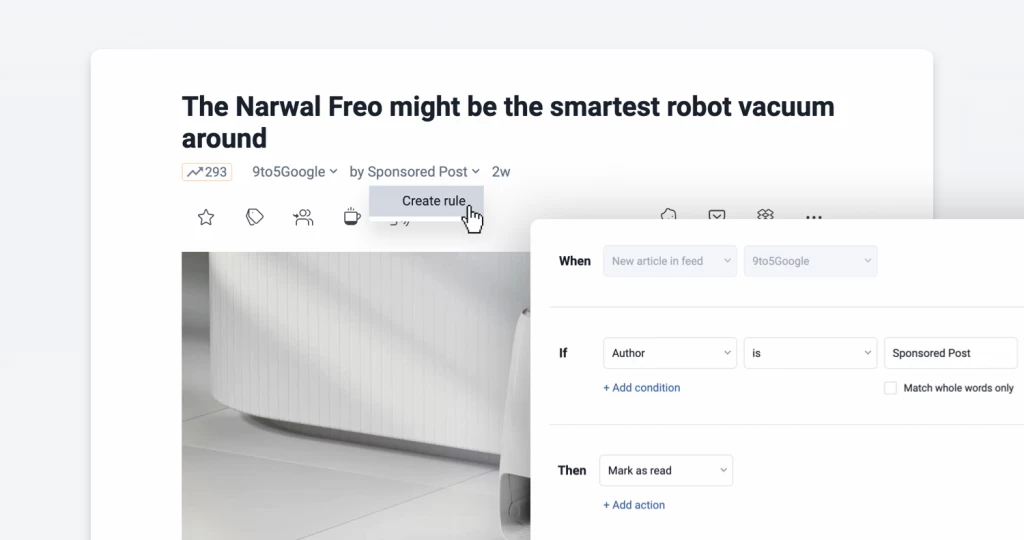 Avoid fluctuating designs and user experience
Navigating through different websites and styles might be annoying. Enjoy the consistency of having all articles look the same way! With Inoreader Pro, you can choose the font and font size for each article you read and play around with the line height for the best experience. If you're not sure about the results, you can always revert to the default settings by clicking the button below.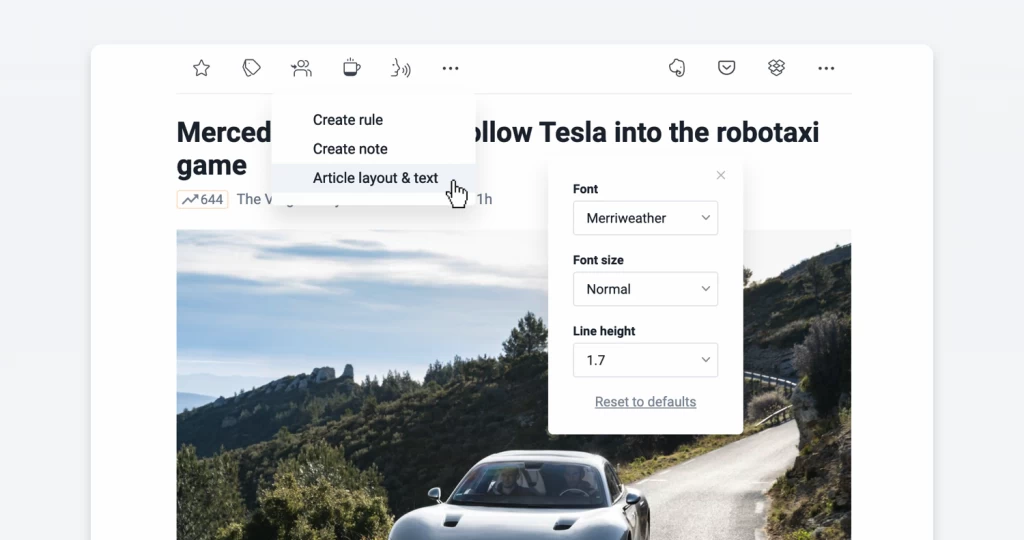 Another cool perk for Pro users is the ability to switch between themes. Currently, we have Aqua, Light, Dark, and Sepia (read our guide to picking a theme here), as well as the option to enable Auto dark theme, synced with your device's current settings.
Last but not least, Inoreader offers different layouts and grouping options for your feed view. Just click on the eye in the top right corner and pick your favorite!
Remove duplicate articles
When scrolling through a website, you can sometimes see the same article displayed in multiple sections again and again. While you could ignore the duplicates, in an ideal setting, they wouldn't be taking up space that could be used to show you more relevant content to begin with. With Inoreader Pro, you can easily remove identical (or near-identical) articles with our Remove duplicates filter and enjoy a tidy feed.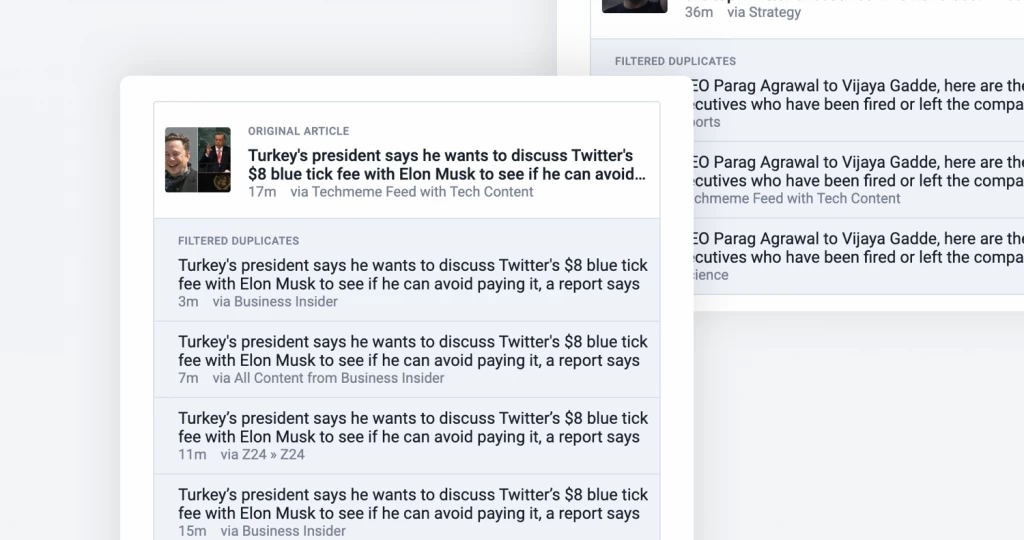 Follow sections instead of whole websites
If you're only interested in updates on certain topics (let's say sports), there's no need to go through whole news sites to reach the content that matters to you. Use Inoreader to follow the sections you care about by finding them in our search tab and picking what's important. Can't see what you're looking for? No worries, we've got you covered with our manual Web feeds (more on that here). If you want to segment your sources further, you can choose to follow only specific authors by setting up Filters to bring their content forward and ignore the rest.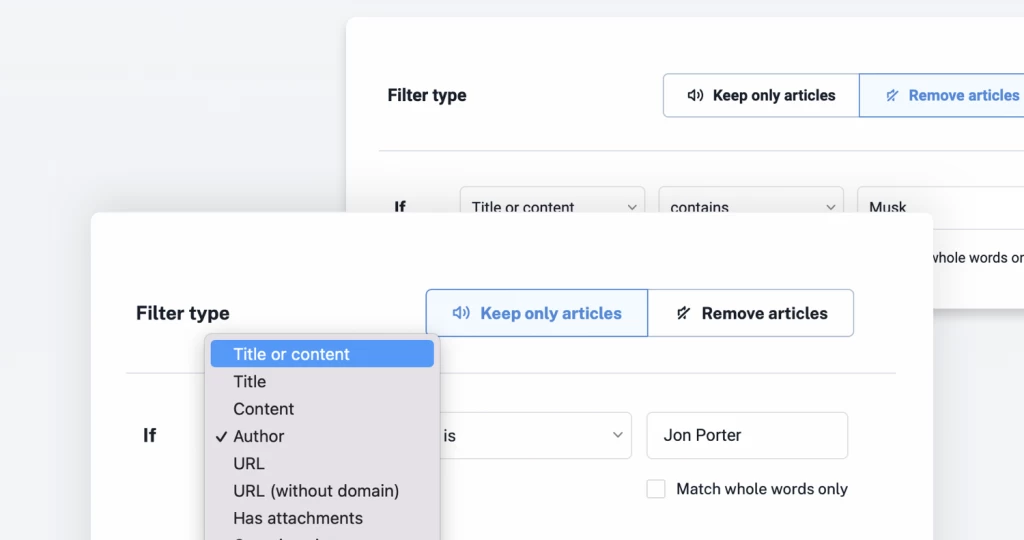 Enjoy an ad-free view
With Inoreader Pro, you see no ads on web and mobile, through a browser, or in our apps. This means no more distracting banners, pop-up windows, auto-playing videos in the background, and irritating pauses mid-text. Who knew life could be this easy?
Try Inoreader Pro and be the master of your own feeds!