Back to Blog
Leaving Twitter for good? Inoreader can fill in the void!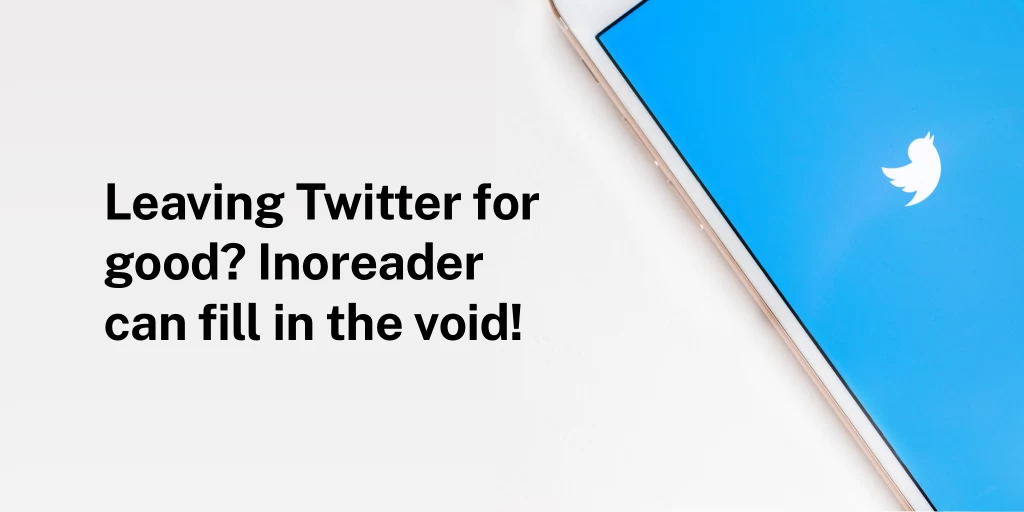 Disclaimer: Please note that this article was published before March 30, 2023, when Twitter feeds stopped being updated and available to follow on Inoreader due to changes in Twitter API policies.
Elon Musk's recent Twitter deal has got the internet on edge after rumors of layoffs, reduced content moderation, and security policy changes turned out to be more or less true. Many users are boycotting the previously beloved service and flocking to different platforms along with their communities to share content, collaborate and discover news.
But no matter how determined you are to leave Twitter, the truth is avid users can face difficulties trying to replace the service at once – that's where Inoreader comes in. Read on to figure out how we can help you get through the changes and switch platforms more easily!
Get the latest news
Many people use Twitter to get their daily news updates online. While convenient, this approach undoubtedly hides some risks, including but not limited to falling victim to misinformation and fake news, as well as not getting the whole picture due to unknown filters and sorting patterns applied by algorithms.
If you're a person who relies on Twitter to stay on top of current events, switching to Inoreader can do a lot for you. Start building your own news feed by adding the news outlets you want to follow and sorting them into folders on different topics. If you don't necessarily trust traditional media and want updates straight from the source, you can easily substitute some of your old Twitter feeds with public Telegram channels.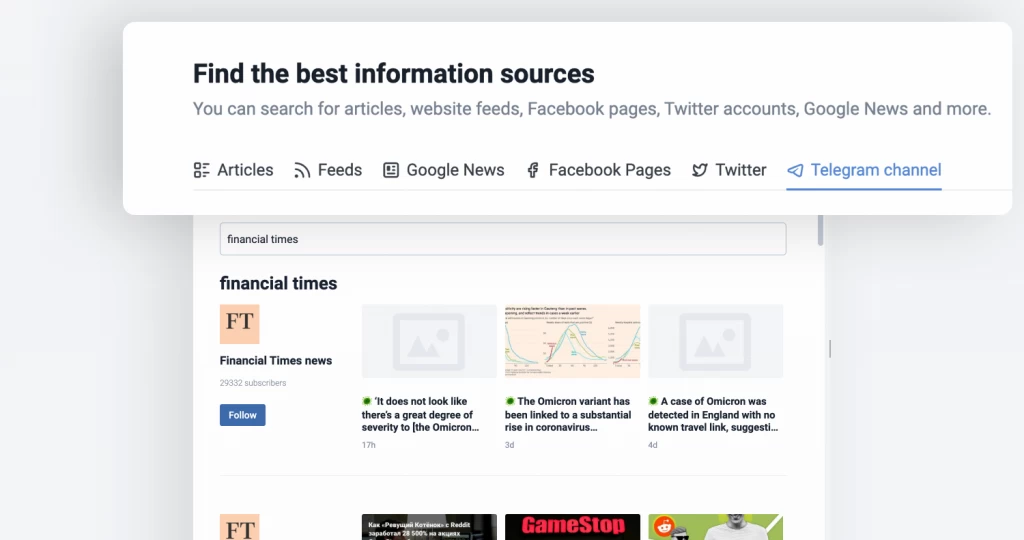 Follow content creators
A huge deal of what makes Twitter great is the rich palette of content creators posting there. Unfortunately, with all the changes going on, some of them can be expected to soon stop using the service and migrate to different platforms. Hilarious, informative, artistic, or motivational – the good news is all of this content will surely keep existing outside of Twitter!
If you want to leave the platform but keep following the same people, you can easily do so in Inoreader. Find and subscribe to their Facebook pages and newsletters, listen to podcasts in our built-in audio player and sync your YouTube subscriptions to keep watching and show your support. Here is how this would look in your Inoreader account: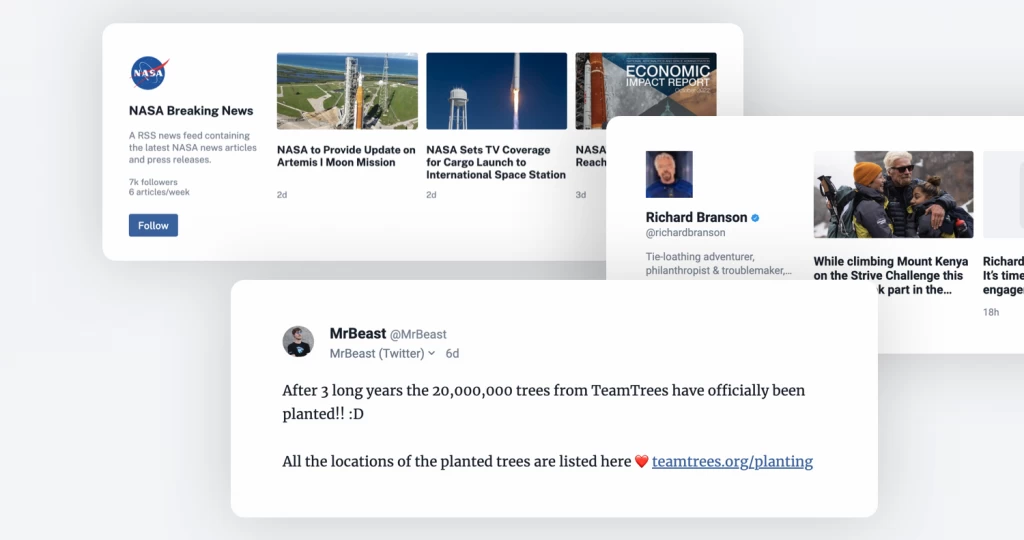 Stay alert
Following the COVID-19 pandemic, it has been increasingly important for people around the world to get informed ASAP whenever an emergency occurs. Many institutions use Twitter to post related updates, but you can easily replace that with Active searches and Google News in Inoreader. Using Rules, you can set up alerts that send notifications straight to your phone whenever specific keywords or search terms appear online so that you can stay informed no matter where you are.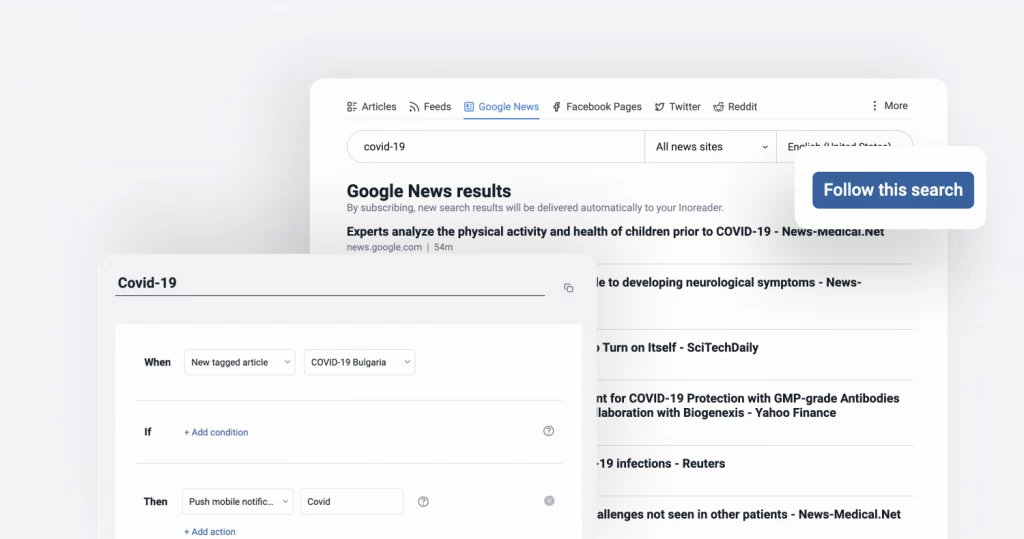 Bring your Twitter feeds to Inoreader
If you're still not sure how you feel about the upcoming changes and want to wait it out and see, that is perfectly reasonable. In the meantime, you can reduce the time you spend on Twitter while keeping the feeds you follow there on Inoreader. You can monitor public accounts, specific keywords or hashtags, your timeline, and other people's lists and likes.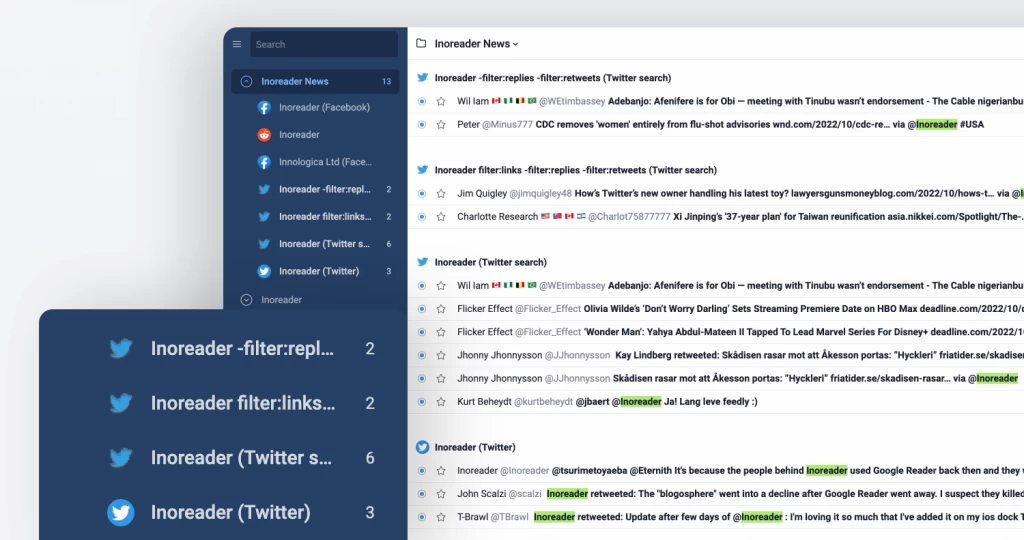 Oh, did we mention our ad-free view with Inoreader Pro? Start your free trial today and enjoy a unified news feed with full user control and guaranteed data protection!