Construisez votre propre fil d'actualité
Avec Inoreader, l'information vous parvient directement dès qu'elle est disponible. Suivez vos sites web et créateurs préférés, collectez des articles et découvrez des contenus inspirants sur l'ensemble du web. Filtrez le superflu et profitez au maximum de votre temps en ligne.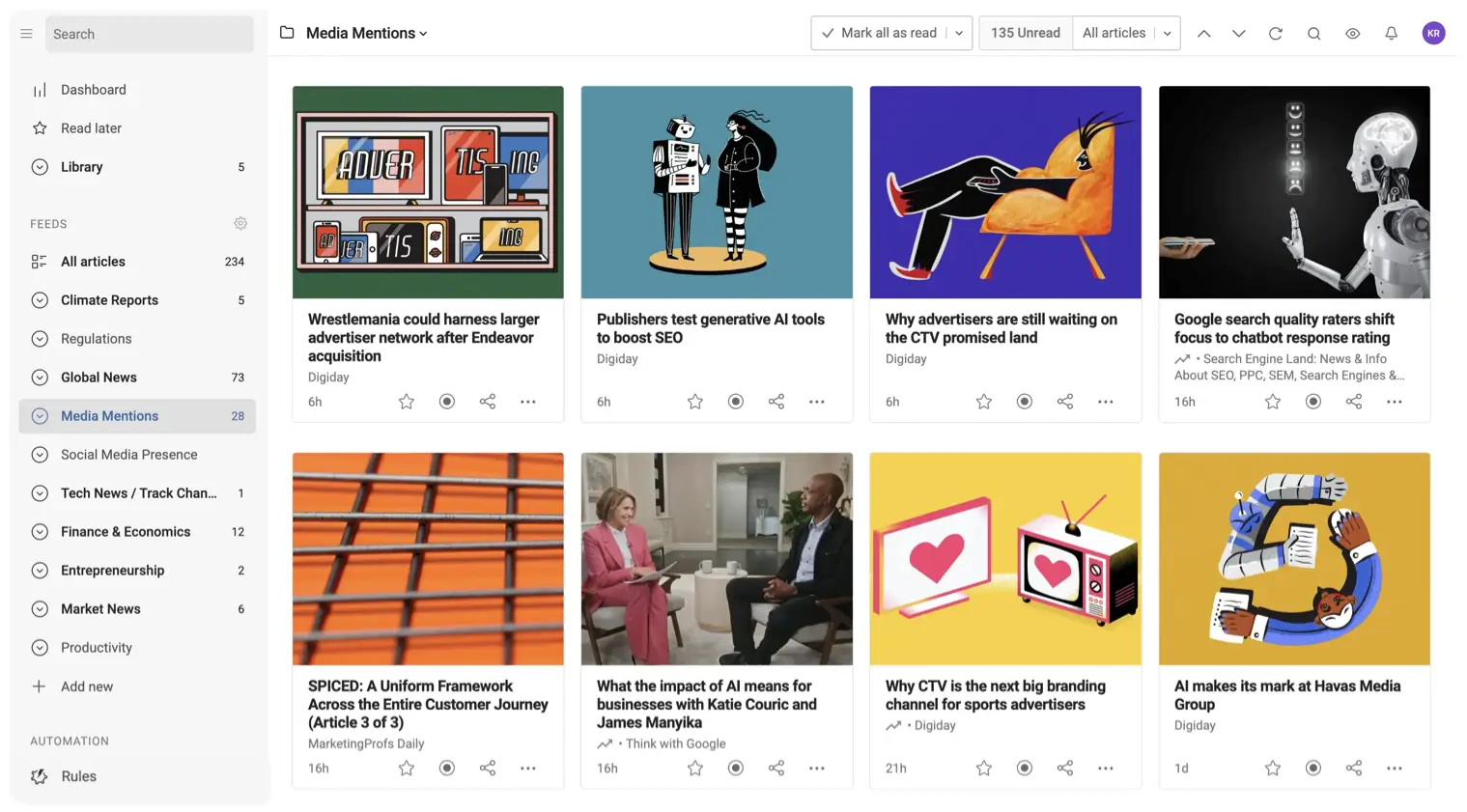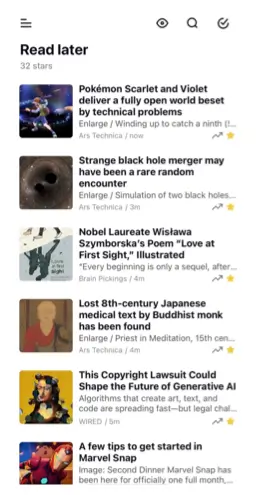 Suivez vos sites Web et créateurs préférés
Regroupez le contenu qui compte pour vous et profitez du meilleur du Web en un seul endroit.
Gagnez du temps avec des automatisations puissantes
Simplifiez la recherche de contenu et éliminez ce qui n'est pas pertinent. Vous définissez les règles, Inoreader fait le travail.
Surpasser les algorithmes et les moteurs de recommandation
Recevez des mises à jour dès qu'elles sont publiées en ligne. Personnalisez votre vue et profitez d'un flux personnalisé.
Fonctionnalités ? Nous en avons.
Sites Web et RSS
Suivez les médias, les blogs, les sites Web d'entreprise et les newsletters. Recherchez des articles et gardez une longueur d'avance grâce aux flux RSS et Web.
Écoute sociale
Surveillez les pages Facebook, les chaînes Telegram, Mastodon et les flux Reddit. Synchronisez vos abonnements YouTube et écoutez des podcasts.
Suivi des mots-clés
Recevez des mises à jour sur les tendances émergentes et soyez le premier à connaître les derniers événements avec les recherches actives dans plus de 30 langues.
Flux automatisé
Profitez d'une expérience optimale grâce aux flux personnalisés. Utilisez des filtres et des règles, attribuez des balises et des notes et collectez ce qui est important dans les dossiers.
Collaboration
Mettez votre équipe à contribution et gardez une longueur d'avance sur vos concurrents. Surveillez les marques, les brevets ou les changements de réglementation et partagez des connaissances.
Les meilleures sources, sélectionnées par notre équipe. Trouvez les dernières nouvelles locales et mondiales, des articles sur les tendances et des informations sur l'industrie.
Parcourir toutes les collections
Ils nous apprécient
"Inoreader offers a well-designed readable interface, good search and discovery options and a nice set of features that are both beginner-friendly and offer plenty of options for advanced users."
"If you're feeling media burnout from overfed social feeds, Inoreader is a news tool that still sparks joy. It's a research tool, intelligence briefing portal and social media filtration system."
"Inoreader is one of the most feature-packed free RSS readers. A great tool for power users, but it's very accessible for beginners as well."
Construisez votre propre fil d'actualité
Prêt à tenter le coup ?
Commencer un essai de 14 jours, aucune carte de crédit n'est requise.
Create account